Festive Stollen
A Christmas classic, Stollen is the perfect sweet treat to offer visiting guests throughout advent
A traditional German bread, this sweet loaf is filled with fruits, nuts and marzipan. Bake a festive Stollen to enjoy with your mid-morning cuppa throughout the holiday season, or to wrap up and put into a hamper of delectable treats for a thoughtful Christmas gift.
Prep time: 50 minutes (plus 2-2½ hours proving)
Baking time: 1 hour
Serves: 8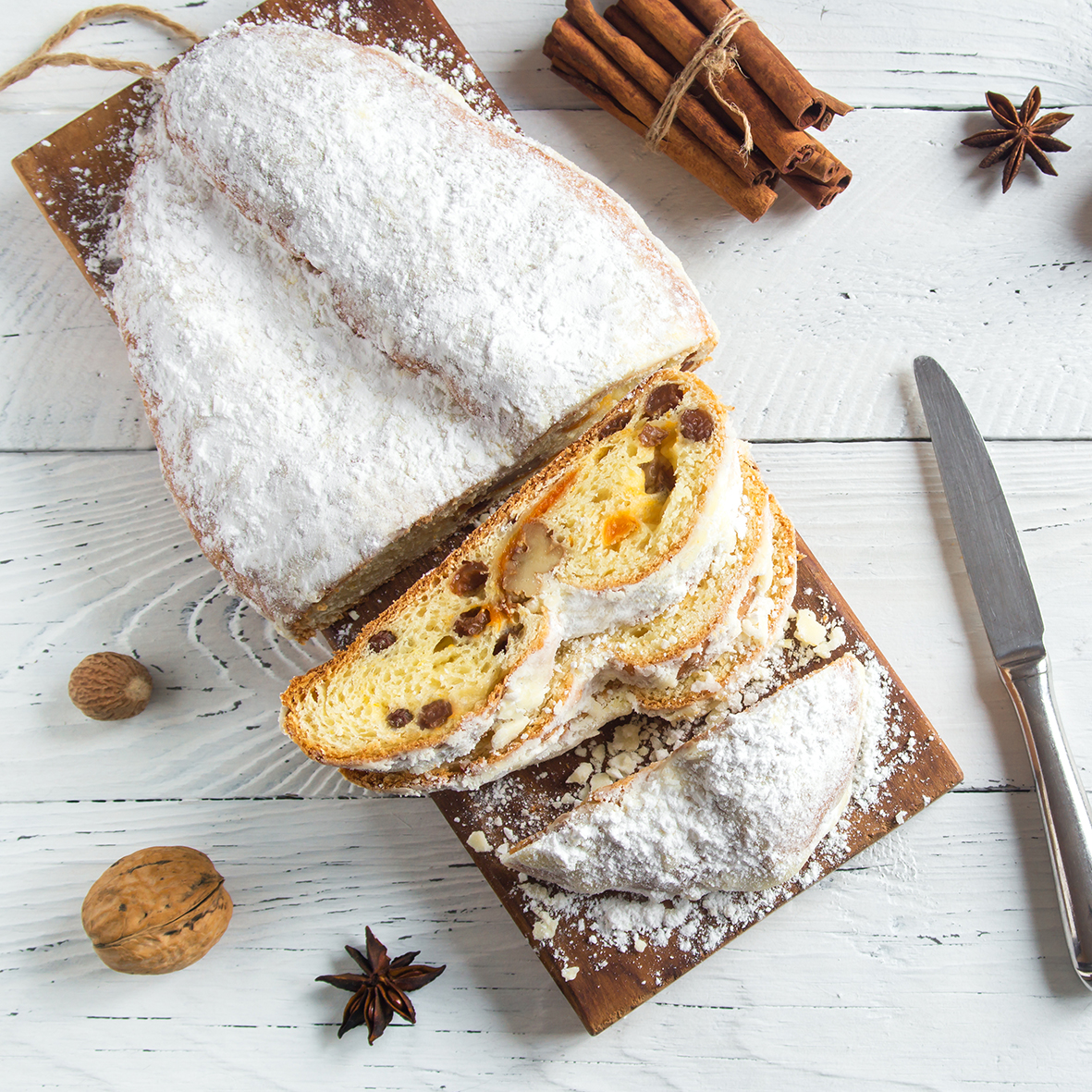 Ingredients:
500g strong white flour
200g unsalted butter, melted
250ml milk
60g fresh yeast
100g caster sugar
½ tsp vanilla extract
½ tsp almond extract
¼ tsp ground nutmeg
¼ tsp ground cloves
½ tsp ground cinnamon
50g chopped almonds
50g chopped walnuts
120g raisins
100g sultanas
80g natural glace cherries, chopped
120g mixed dried peel
225g marzipan
2 tbsp icing sugar
Method:
Gently heat the milk and add the yeast, stirring until the yeast has dissolved and the mixture is creamy.
Add melted butter to the yeast mixture and stir in.
Combine the flour, sugar, nutmeg, clove, cinnamon, almond extract and vanilla in a large bowl. Add the yeast mixture and knead well until you are left with a smooth dough.
Turn the dough out onto a lightly floured surface and knead in the sultanas, cherries, raisins, peel, almonds and walnuts.
Lightly oil the bowl you were using and return the dough to the bowl, turning it to coat it in the oil. Cover with cling film or a damp cloth and leave to rise, in a warm place, until it has doubled in size – this will take around and hour to an hour and a half.
Turn the dough out once it has risen and knead again. Roll the dough into a rectangle.
Roll the marzipan into a rectangle that is just slightly smaller than the dough. Place the marzipan on top of the dough and roll to fully encase the marzipan.
Place the dough onto a lined baking sheet, cover with a damp cloth and allow to rise again for another hour.
Pre-heat the oven to 190˚c / gas 5 and bake for around an hour.
Remove from the oven and allow to cool slightly. Dust with icing sugar and serve either warm or fully cooled with a cup of Miles Chai tea or Miles Christmas Coffee.
We'd love to see photos of you enjoying a moment with Miles and trying out this recipe! Follow us on Facebook, Twitter and Instagram and share your pictures with the #momentswithMiles. Happy baking!
Share a moment with friends