Chai Spiced Carrot Cupcakes
A classic bake that is best enjoyed with a cup of West Country Original tea, after a crisp autumn stroll
The spices in this carrot cake mixture echo those in chai tea, making these cupcakes even more exotic and warming, perfect for cold autumn days. With delicious cream cheese frosting prettily piped on top, they will go down a treat at gatherings.
Prep Time: 25 minutes
Baking Time: 20 -25 minutes
Makes: 12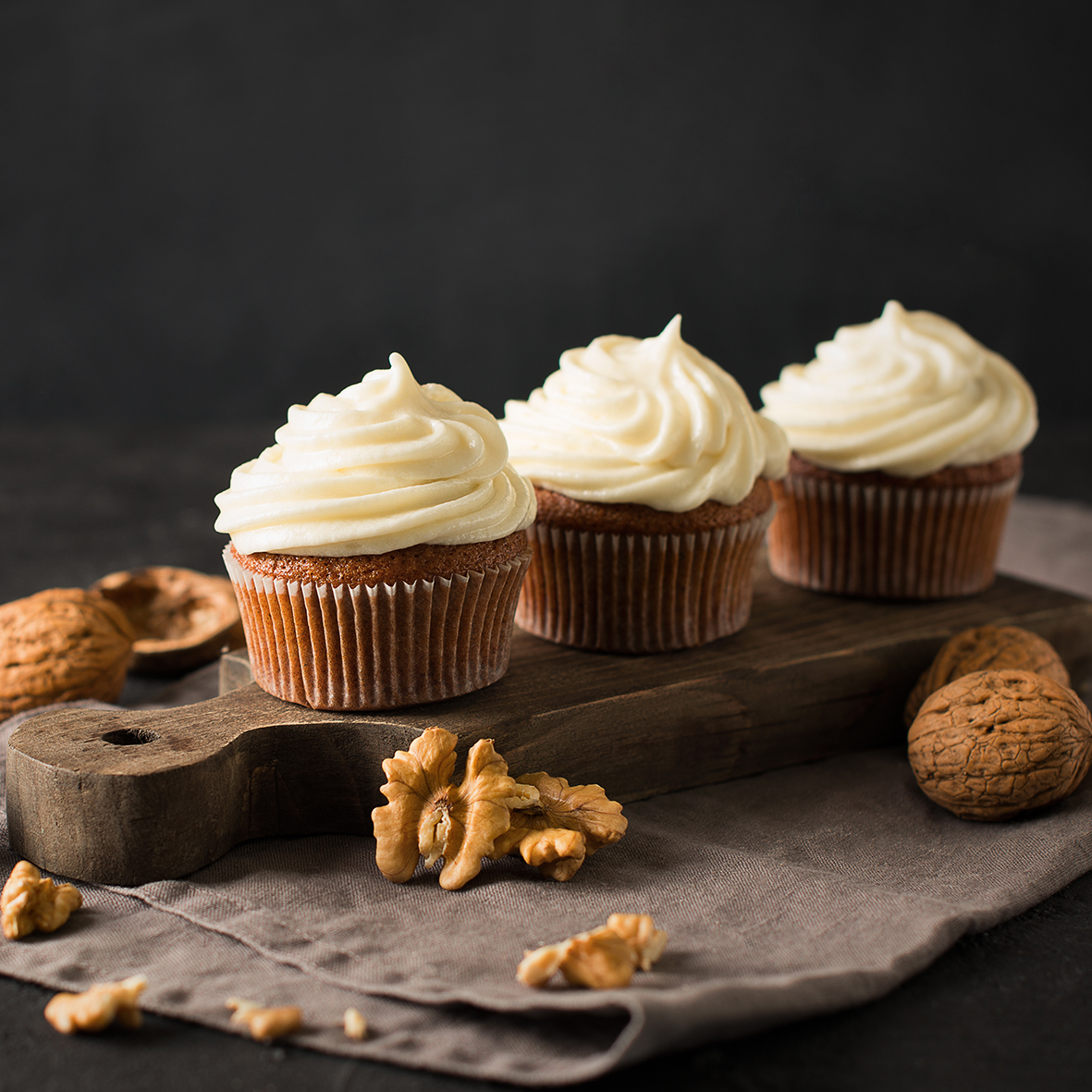 Ingredients:
For the cake:
2 medium carrots
215g plain flour
225g brown sugar
120ml vegetable oil
3 large eggs, beaten
30g unsalted butter
75g chopped walnuts
50g sultanas
4 tbsp of Miles Chai Tea (brew 2 tsp of loose-leaf tea 150ml boiling water for 5 minutes)
2 tsp baking powder
¾ tsp ground cinnamon
¼ tsp ground clove
½ tsp ground ginger
¼ tsp ground nutmeg
¼ tsp salt
1 tsp vanilla essence
For the cream cheese topping:
200g full-fat cream cheese
50g unsalted butter, softened
140g icing sugar
1 tsp vanilla essence
Method:
Pre-heat the oven to 180˚c/gas 4 and line a 12 hole cupcake tin with cupcake cases.
In a large bowl, peel and grate the carrots. Add the chopped walnuts and sultans.
Mix together the eggs, sugar, vegetable oil, butter, chai tea and vanilla essence in a batter jug. Pour the mixture into the grated carrots and stir in. Add the baking powder, cinnamon, clove, ginger, nutmeg and salt and stir to fully combine.
Fill the cake cases with the mixture and bake in the oven for 20-25 minutes. To check if the cakes are ready to come out of the oven, insert a clean knife or skewer into the middle of one of the cakes. If it comes out clean the cake is cooked.
Remove from the oven and allow the cupcakes to cool on a wire rack.
To make the cream cheese frosting, whisk the butter in a bowl until it is pale and creamy.
Add the cream cheese, icing sugar and vanilla essence and combine. Set the mixture in the fridge for 10 minutes, before piping on top of the cupcakes.
Enjoy with a freshly made cup of Miles West Country Original – Yum!
We'd love to see photos of you enjoying a moment with Miles and trying out this recipe! Follow us on Facebook, Twitter and Instagram and share your pictures with the #momentswithMiles. Happy baking! ☕
Share a moment with friends