Chilli Con Carne Recipe
A super easy recipe for a scrumptious meal that's perfect for sharing – bon appétit!
A firm favourite for dinner parties and entertaining, because you can make it in advance (we don't want you to miss all the fun!), the addition of coffee to this hearty chilli con carne recipe gives it a greater depth of flavour – and you can ask your guests to guess what the surprise ingredient is, we bet they wont get it! Dish it up in bowls along side sweet potato wedges, nachos, cheese and a selection of dips for your guests to top and tuck into their chilli just the way they like it.
Prep Time: 20 minutes
Cooking Time: 1 hour – 1 hour 20 minutes
Serves: 8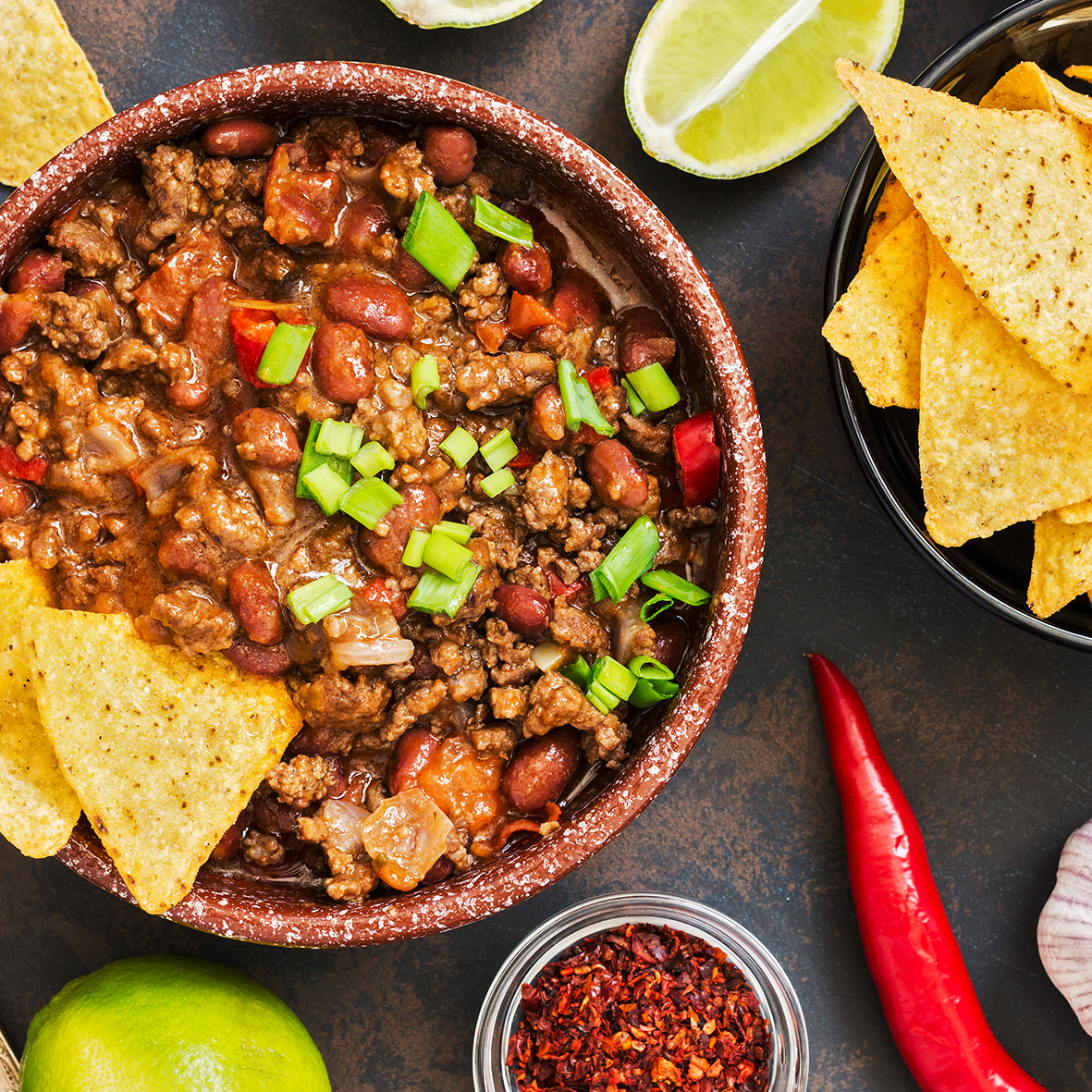 Ingredients:
800g minced beef
1 red chilli, finely diced
1 tbsp dried crushed chillies
4 garlic cloves, finely diced
2 onions, finely sliced
2 tsp ground cumin
2 tsp mild chilli powder
1 tsp muscovado sugar
2 tsp smoked paprika
400ml Miles Kenya Ground Coffee, made in a cafetiere
400g tinned tomatoes
395g red kidney beans, drained
2 large tomatoes
2 tbsp olive oil
1 pinch salt
1 pinch black pepper
To serve
2 limes
Sour Cream
1 bunch coriander
Guacamole
Salsa
200g Cheddar
Nachos
Method:
Heat the olive oil in a large pan over a high heat.
Once the oil is hot, add the sliced onions and cook until just starting to brown.
Add the diced garlic and chilli to the onions, be careful not to let the garlic burn.
Add the minced beef and cook off until browned.
Mix the cumin, smoked paprika, sugar and chilli powder together in a dish before adding the spices to the beef.
Soak the dried chilli flakes in the freshly made Miles Kenya Ground Coffee for around two minutes before adding the liquid to the pan, ensuring the beef is well covered.
Add the tinned tomatoes.
Cover with a lid, then simmer on a low heat for around 40 minutes.
While the chilli simmers, dice the tomatoes, roughly chop the coriander and grate the cheddar.
Go back to the pan, remove the lid and add the kidney beans and tomatoes. Continue to simmer the chilli for around 15 minutes or until it has thickened. Season with a little salt and pepper.
Serve the cooked chilli into warmed bowls and sprinkle with the chopped coriander. Accompany with nachos, grated cheddar, sour cream, guacamole, salsa and lime wedges.
We'd love to see photos of you enjoying a moment with Miles and trying out this recipe! Follow us on Facebook, Twitter and Instagram and share your pictures with the #momentswithMiles. Happy cooking!
Share a moment with friends