Breakfast Granola
Start your day with a delicious, wholesome breakfast
Said to be the most important meal of the day, breakfast starts your metabolism and sets you up for the day ahead. This mocha-flavoured granola is packed with healthy nuts and seeds that will keep you feeling full for longer and leave you ready to tackle whatever the day brings…
Prep Time: 15 minutes
Cooking Time: 30 minutes
Serves: 8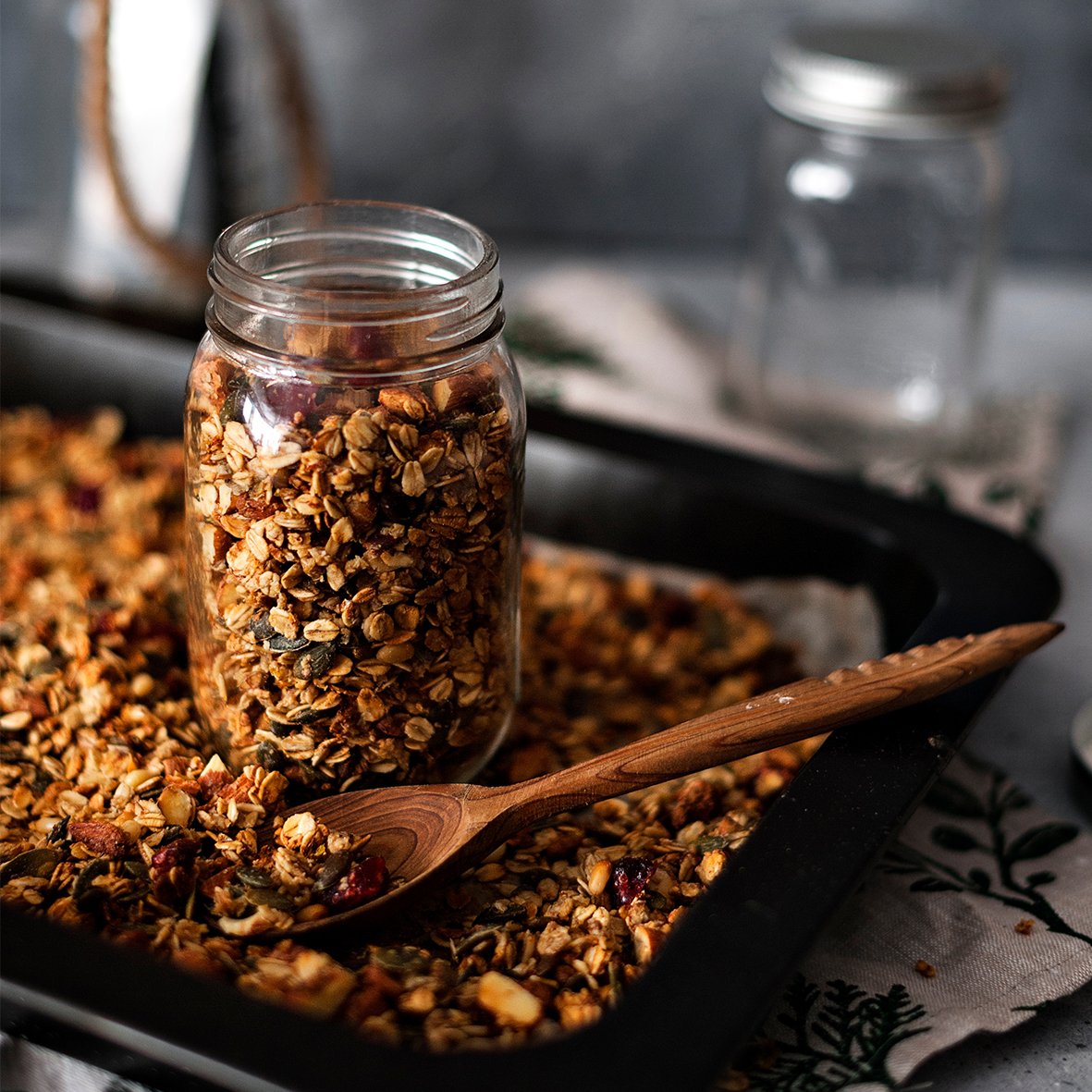 Ingredients:
1 tbsp sunflower oil
70g maple syrup
1 tbsp clear honey
150g rolled oats
50g ground almonds
50g sunflower seeds
50g pumpkin seeds
50g dried berries
50g blanched almonds
50g coconut flakes
1 tbsp Miles Heavenly Hot Chocolate
1 tbsp Miles Freeze Dried Coffee Granules
1 tsp vanilla extract
2 tbsp boiling water
Method:
Preheat the over to 150˚c / gas mark 2.
Add the coffee granules and hot chocolate powder to a large bowl with the 2 tbsp of boiling water. Mix together until the powder and granules are fully dissolved.
Pour in the oil and add the vanilla extract, honey and maple syrup, stirring together until all of the ingredients are combined.
Tip the rolled oats, ground almonds, sunflower seeds and pumpkin seeds into the bowl and mix well – it should start to stick together.
Evenly spread the granola mixture on a baking tray and bake on the middle shelf in the oven for 20 minutes.
Take the tray out of the oven and stir in the dried berries, blanched almonds and coconut flakes to the mixture. Flatten the mixture out again and return to the oven for a further 10 minutes.
Line a second baking tray with non-stick baking paper. Remove the baked granola from the oven – it should be crisp around the edges – and scrape onto the second baking tray to cool completely.
Enjoy with milk or yogurt and berries for a delicious, wholesome breakfast. The granola will keep for around four weeks if stored in an airtight container.
We'd love to see photos of you enjoying a moment with Miles and trying out this recipe! Follow us on Facebook, Twitter and Instagram and share your pictures with the #MomentswithMiles. Happy cooking!
Share a moment with friends