Chocolate Fruitcake
This chocolate fruitcake is delicious year round, but particularly great if you were a little late making your Christmas cake!
The time has come to jazz up your traditional Christmas cake. Don't panic, there's still plenty of time to make this cracker of a cake. Unlike traditional fruitcakes, this doesn't have to 'feed' it for months, which makes it a quick alternative to the usual Christmas fruitcake, but equally impressive.
Prep time: 40 minutes
Baking time: 1 hour, 45 minutes to 2 hours
Serves: 8-10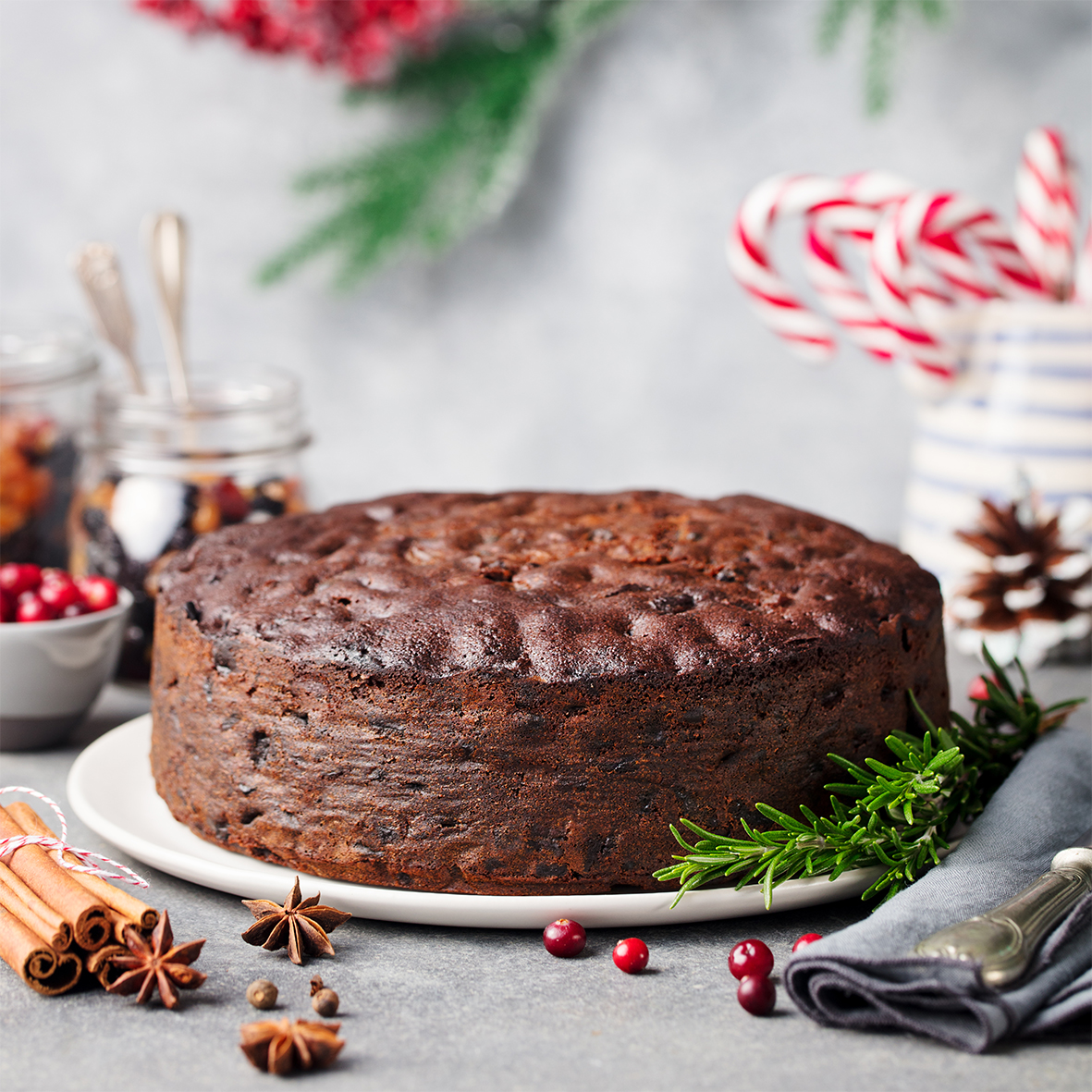 Ingredients:
250g pitted prunes
250g raisins
125g currants
50g mixed candied peel
175g soft unsalted butter
175g muscovado sugar
175ml runny honey
125ml coffee liqueur (we use Tia Maria)
2 oranges (juice and zest)
1 tsp mixed spice
6 tbsp Miles Heavenly Hot Chocolate
3 large eggs, beaten
170g plain flour
75g ground almonds
½ tsp baking powder
½ tsp bicarbonate of soda
Method:
Preheat the oven to gas mark 2 / 150°c and line the sides and bottom of a 20cm round, 9cm deep, loose-bottomed cake tin with a double layer of baking paper.
Put the prunes and bicarbonate of soda in a bowl and cover with the water, stir and leave to soak. After 10-15 minutes stir the prunes and softly squish them a little before draining out the water.
In a large saucepan add the prunes, raisins, currants, mixed peel, muscovado sugar, honey, the juice and zest of the oranges, coffee liqueur, butter, mixed spice and hot chocolate and gently heat, melting the butter and combining all of the ingredients. Simmer on a low heat for 10 minutes and then remove from the heat and leave to stand for 30 minute to cool.
Once cooled, stir in the flour, ground almonds and baking powder with a wooden spoon or spatula. Then stir in the eggs, making sure all of the ingredients are fully incorporated.
Pour the fruit cake mixture into the prepared cake tin. Place in the oven and bake for 1 hour, 45 minutes to 2 hours, by which time the top of the cake should be firm with a shiny, sticky look. If you insert a clean knife or skewer into the centre of the cake it will still be a little gooey in the middle.
Put the cake on a cooling rack. Once it has cooled, remove it from the tin and, if you don't want to eat it immediately, wrap it in baking parchment and then in foil and place in an airtight tin.
The fruitcake can be iced and decorated or enjoyed as it is. Like all fruitcakes, it will keep well if properly stored and it can be frozen.
We'd love to see photos of you enjoying a moment with Miles and trying out this recipe! Follow us on Facebook, Twitter and Instagram and share your pictures with the #momentswithMiles. Happy baking!
Share a moment with friends