Spiced Tea Poached Pears
Sweet, soft pears served with chai syrup and crème fraiche
This dessert is quick and easy to prepare, budget friendly and a crowd pleaser, making it the perfect pudding to serve after an alfresco dinner party.
Prep Time: 5 minutes
Cooking Time: 40 minutes
Serves: 8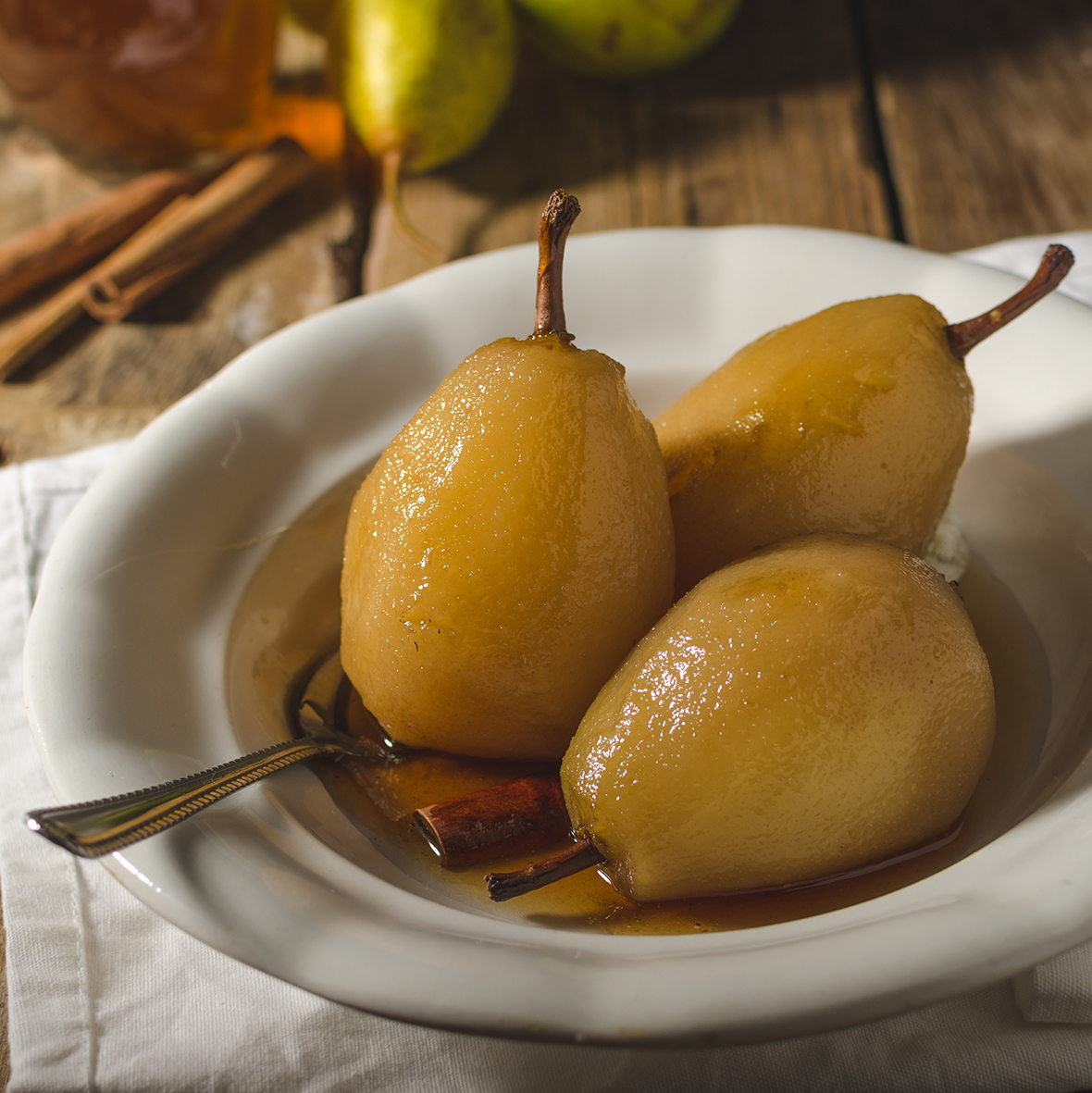 Ingredients:
1 litre water
100g light brown sugar
1 Cinnamon stick
2 tbsp clear honey
2 tbsp cranberry sauce
6 tsp Miles Rooibos, Baobab and Chai Tea Kites
8 medium pears
Crème fraiche to serve
Method:
In a large saucepan, bring to the boil the water, sugar, honey and cranberry sauce. Stir to melt down all the ingredients and dissolve the sugar.
While the water is boiling, peel the pears. Leave the stalks at the top and peel from the bottom.
Once the water has boiled, remove the pan from the heat and add the Rooibos, Baobab and Chai Tea Kites and cinnamon stick, leaving to steep for five minutes.
Remove the tea bags and cinnamon from the liquid and bring the pan of water to a boil once again.
Once boiling, add the peeled pears. Reduce the heat, place a lid on the saucepan and allow to simmer for 15 minutes until the pears are just soft.
Remove the pears from the water and place them in a separate dish, cover them in foil to keep them warm.
Place the saucepan back on the heat and boil for a third time, until the liquid has reduced and thickened.
Serve the pears with the thickened syrup poured over them and a dollop of crème fraiche.
We'd love to see photos of you enjoying a moment with Miles and trying out this recipe! Follow us on Facebook, Twitter and Instagram and share your pictures with the #MomentswithMiles.
Share a moment with friends