Traditional Fruit Scones
Indulge in homemade scones, cream and jam with a pot of Miles tea…
Scones are surprisingly simple and quick to make and a summertime favourite. Soak up the sunshine and enjoy a delicious homemade cream tea from the comfort of your own garden, served with a pot of Miles West Country Original tea of course!
Prep time: 10 minutes
Baking time: 15 minutes
Makes: 12-14 scones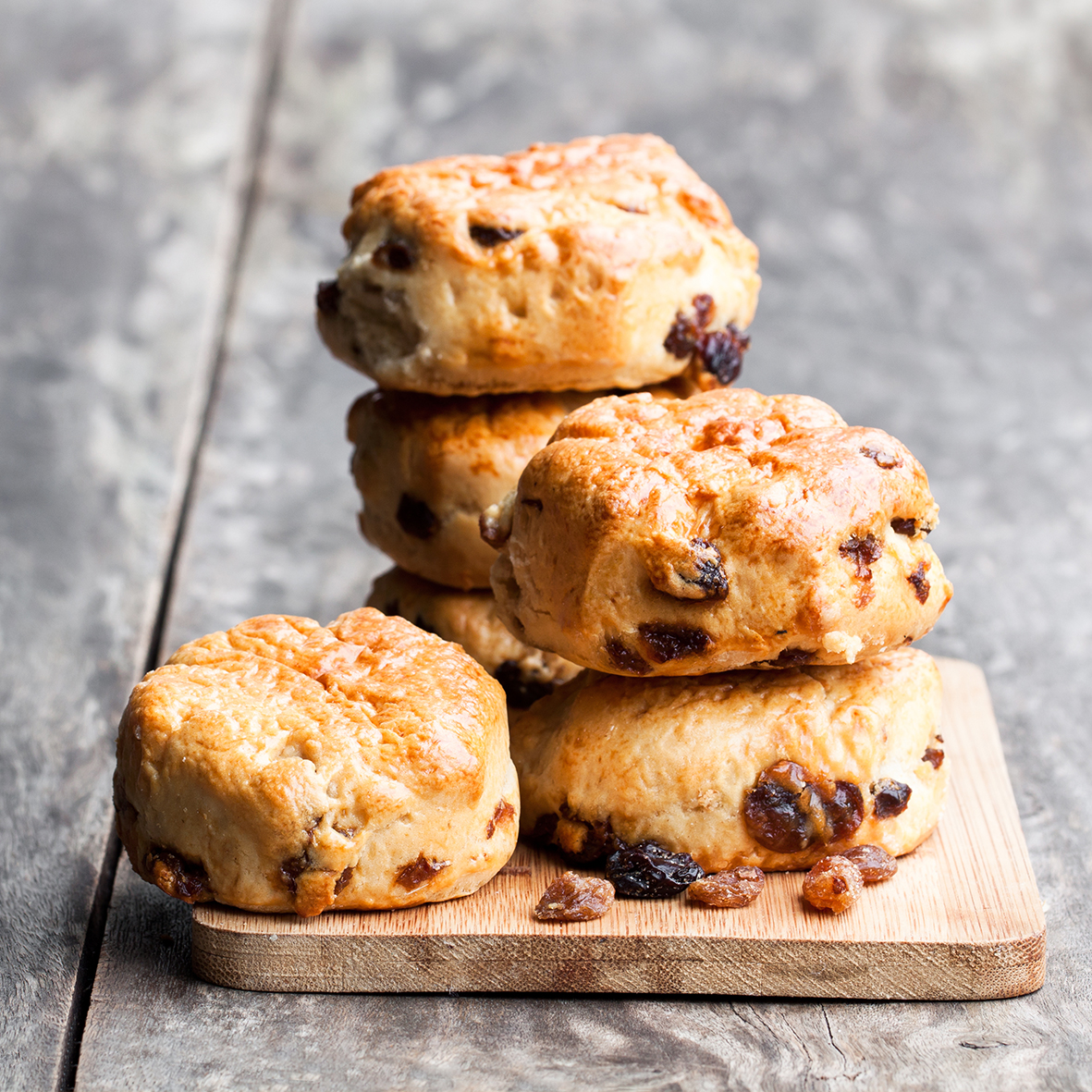 Ingredients:
400g self-raising flour
1½ tsp baking powder
90g unsalted butter
3½ tbsp white caster sugar
100g sultanas
180ml whole milk
1 tsp vanilla extract
1 tbsp lemon juice
Pinch of salt
1 beaten egg, to glaze
Method:
Heat the oven to 200˚c / gas mark 6. Put a baking sheet in the oven.
In a large bowl combine the flour, baking powder and salt.
Cut the butter into cubes and add to the flour. Rub the butter into the flour with your fingers until you are left with a breadcrumb-like consistency.
Stir in the caster sugar, then make a well in the middle of the mixture.
Pour the milk into a heatproof jug and warm in the microwave for 30 seconds, until it is just warm. Add the vanilla extract and lemon juice to the milk.
Pour the milk into the flour and combine, mixing the ingredients together until you have formed a dough.
Add the sultanas and knead into the dough.
Dust your work surface with a little flour and tip the dough out.
Fold the dough over a few times until it feels a little smoother, and then pat the dough out until it is around 3cm deep.
Using a 5cm smooth-edged cookie cutter, cut out 12 rounds or as many as you can to use up all the dough.
Remove your heated tray from the oven and place the rounds onto it.
Lightly brush the top of each round with the beaten egg before placing the tray back in the oven and bake for 15 minutes. The scones should have risen and the tops turned slightly golden.
Allow to cool slightly, then serve warm with clotted cream, strawberry jam and a pot of Miles West Country Original tea.
Share a moment with friends