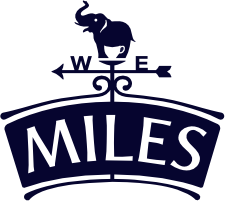 Coffee and cake pairings
Time for a coffee and cake break?
Everyone loves coffee and cake, but which cakes go best with your favourite coffee? Different coffee blends have different characteristics, which pair best with different cakes. We have done some taste-testing for you and come up with a guide to coffee and cake pairings…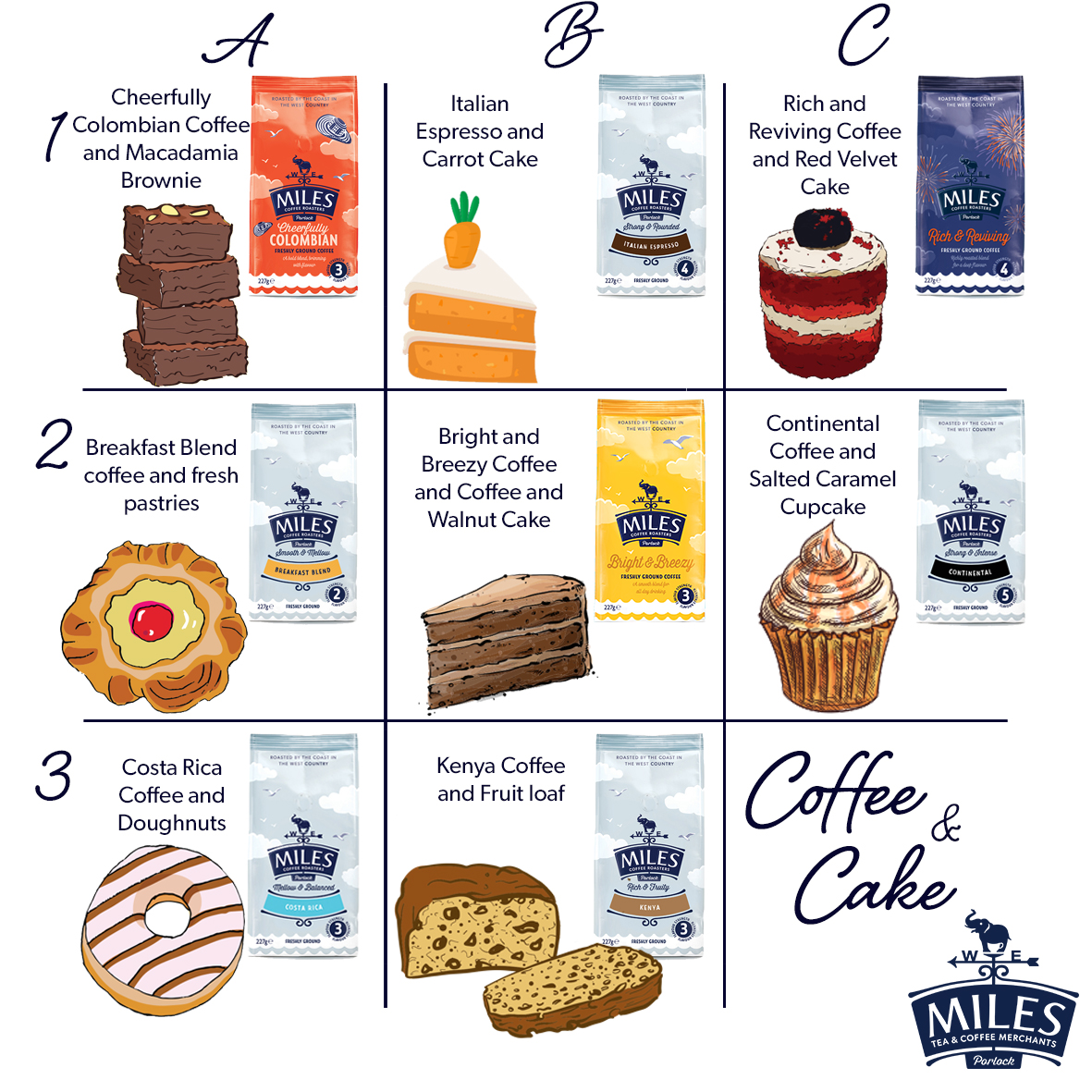 Cheerfully Colombian coffee and Macadamia Brownie
Our Cheerfully Colombian coffee has a rich, smooth flavour with a dark chocolatey taste and a distinctive nutty background. A gooey macadamia brownie will pair perfectly with this slightly sweet coffee.

Breakfast Blend coffee and Breakfast pastries
A smooth and mellow coffee with a fruity taste, a cup of our Breakfast Blend is the perfect way to start your day. Enjoy this coffee with fresh Danish Pastries (think chocolate twists, pecan pinwheels, cinnamon whirls and vanilla crowns) for a scrumptious breakfast.
Bright and Breezy coffee and Coffee and Walnut Cake
Miles Bright and Breezy medium strength coffee is enjoyable at any time of the day. The roasting of these coffee beans results in a slightly chocolatey, hazelnut flavour, which pairs perfectly with a light Coffee and Walnut cake. The coffee is smooth and well-balanced, meaning you can double up on the coffee flavour with your cake choice!
Rich and Reviving coffee and Red Velvet Cake
The longer roast time of our Rich and Reviving coffee beans means they release more caffeine, which is why we call this blend reviving! The darker roast results in a stronger flavour, which has a dark chocolate intensity. Pair this coffee with a chocolatey red velvet cake. The cream cheese frosting pairs perfectly with the slightly bitter coffee.
Italian Espresso and Carrot Cake
The coffee beans in our Italian espresso coffees have been roasted to give a medium-to-dark colour and strength. The classic blend has been developed to give a full-flavoured, sweet espresso with plenty of depth. With a dark chocolatey richness and hints of zingy oranges, this coffee pairs well with a carrot cake, which has a citric flavour and cream cheese topping.
Kenya coffee and Fruitcake
Our Kenya coffee is a light to medium coffee with a distinct, fruity taste, which is almost wine-like. It has a sharp and pleasing acidity, which we think pairs well with a slice of fruitcake to echo the fruity qualities of the coffee.
Costa Rica coffee and Doughnuts
Costa Rica coffees are well-rounded with a fruity character. A medium strength coffee, our Costa Rica coffee is drinkable all day long. We think this easy-drinking coffee pairs well with doughnuts (sugar, iced or filled), as they are both delicious at any time of day!
Continental coffee and Salted Caramel Cupcake
A blend of Central and South American beans, our Continental coffee beans have been roasted for as long as we dare. The dark, shiny beans produce an intense flavour and strong coffee. The bittersweet coffee pairs well with a sweet, salted caramel cupcake.
We'd love to see photos of you enjoying a moment with Miles and hear what your favourite cake pairings are. Follow us on Facebook, Twitterand Instagram and share your pictures and ideas with the #MomentswithMiles. ☕
Share a moment with friends