Easter Biscuits
Crisp and buttery traditional biscuits to enjoy over the Easter period
Try your hand at baking these traditional Easter biscuits. Fruity and fragrant, these buttery biscuits are so delicious, we can't stop at just one!
Prep time: 30 minutes, plus 1hr chill time
Baking time: 15 minutes
Makes: 30 biscuits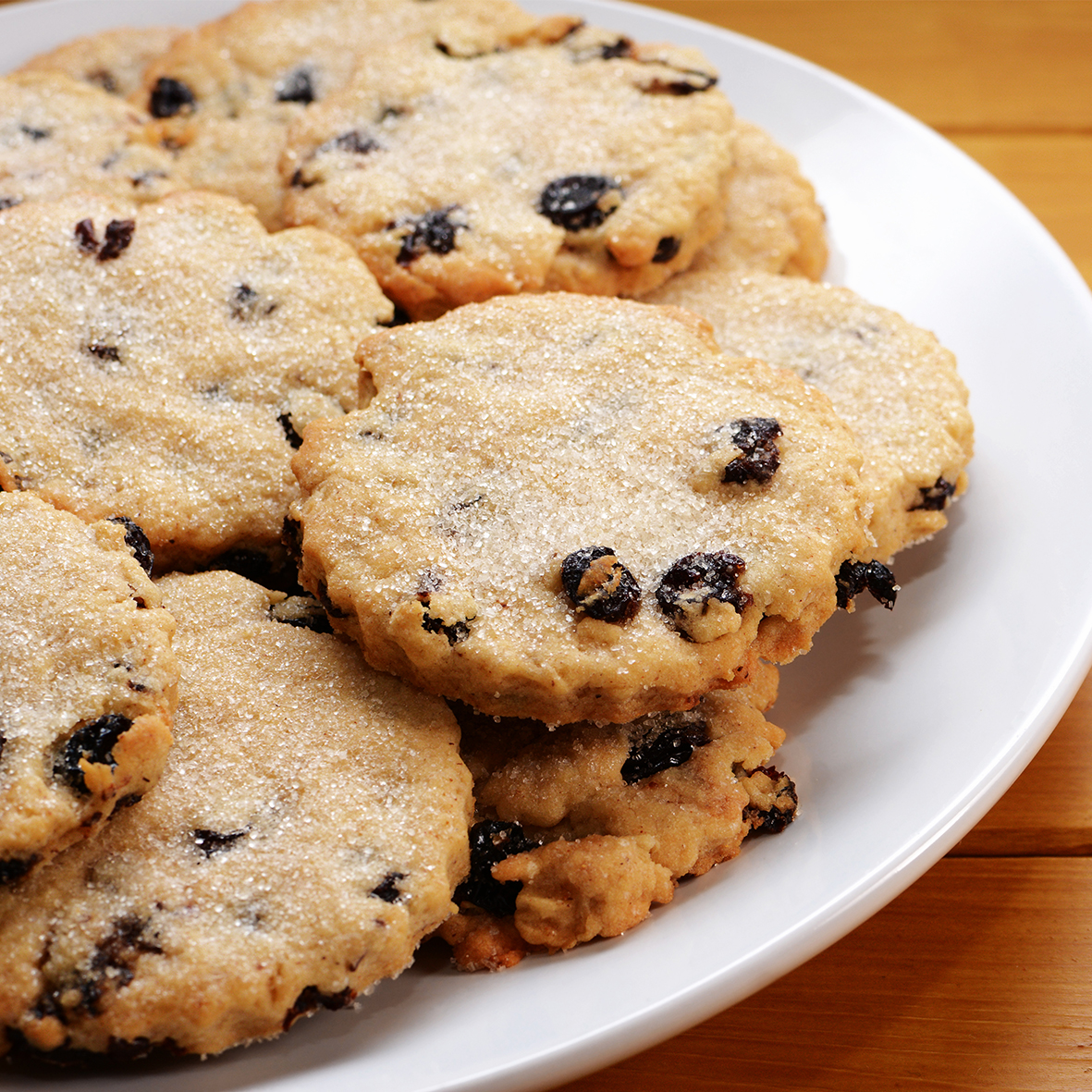 Ingredients:
150g unsalted butter
115g caster sugar, plus extra to sprinkle
2 small eggs, separated
300g plain flour
75g currants
2-3 tbsp milk
Zest of one lemon
½ tsp ground cinnamon
½ tsp ground nutmeg
Method:
Line four baking trays with baking paper and preheat the oven to 200˚c/gas mark 6.
In a large bowl, beat together the butter and sugar until pale and fluffy.
Add 1 egg plus the yolk of 1 egg and the lemon zest, beating together until the egg is fully combined.
Sift in the flour, nutmeg and cinnamon and mix well, before adding the currants. Add the milk a tablespoon at a time until you achieve fairly soft dough – you may not need to use all of the milk.
Wrap the dough in cling film and chill in the fridge for an hour.
Turn the dough out onto a lightly floured work surface, knead and roll out, with a rolling pin, to around 5mm thick. Cut out 30 rounds with a fluted biscuit cutter and place each round onto the baking trays.
Bake in the oven for 10 minutes.
Beat the remaining egg white and, once removed from the oven, lightly brush each biscuit with the egg white using a pastry brush. Sprinkle caster sugar over the top and return the biscuits to the oven for 5 minutes. The biscuits should still be fairly pale.
Allow to cool on the trays for a few minutes before moving to a wire rack to completely cool.
Enjoy with a cup of Miles Earl Grey or Miles Smuggler's Gold.
We'd love to see photos of you enjoying a moment with Miles and trying out this recipe! Follow us on Facebook, Twitter and Instagram and share your pictures with the #momentswithMiles. Happy baking!
Share a moment with friends