Tea Loaf
A slice of homemade tea loaf to enjoy with your afternoon cuppa?
Juicy, plump sultanas and raisins make this tea loaf totally moreish! Spread with butter and enjoy a slice with your afternoon cup of tea.
Prep time: Overnight
Baking time: 1 hour – 1 hour 15 minutes
Serves: 8-10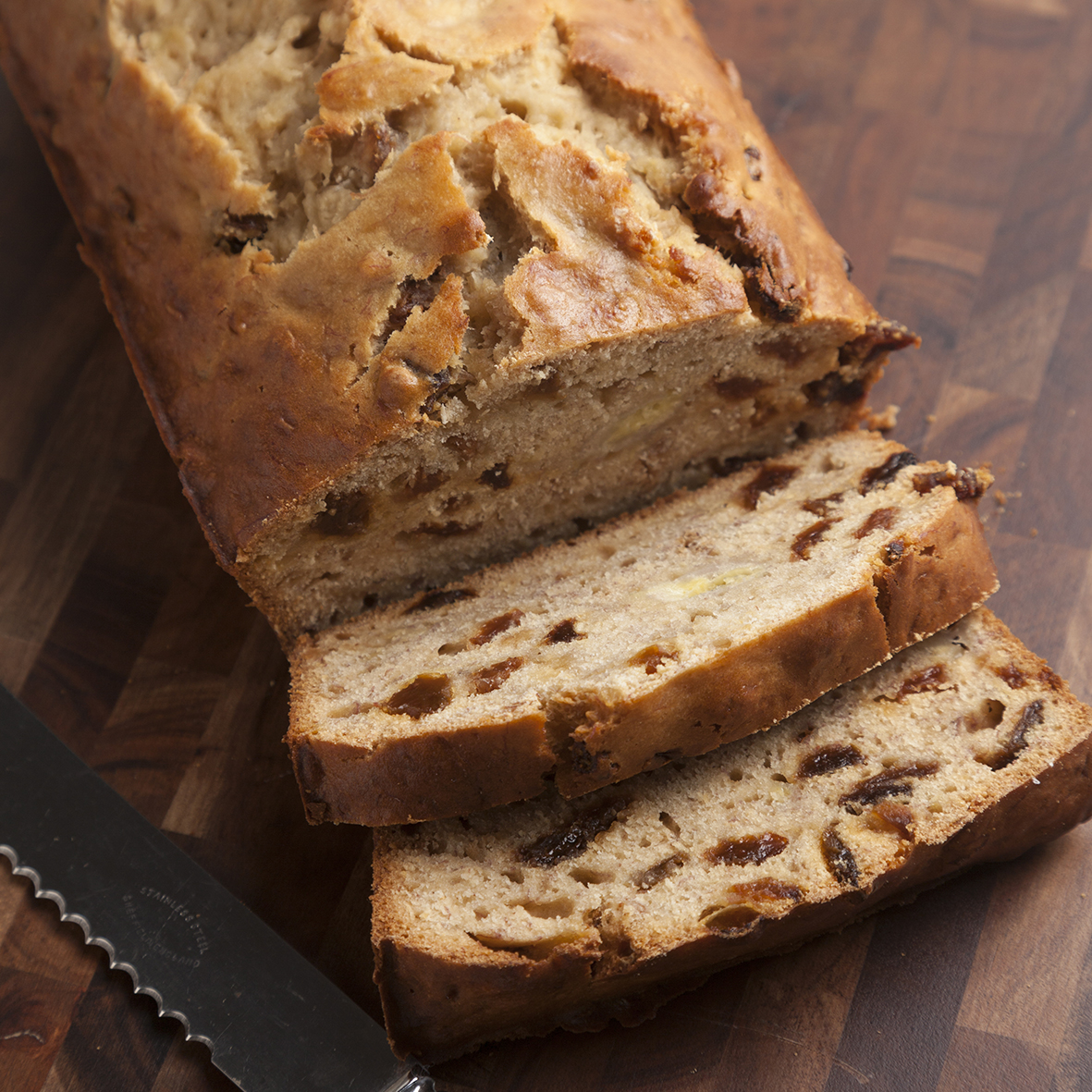 Ingredients:
150g sultanas
150g raisins
25g mixed peel
300ml boiling water
4 Miles Smugglers' Gold Teabags
2 eggs
250g self-raising flour
200g soft brown sugar
½tsp mixed spice
Butter for greasing and to serve
Method:
Put the teabags in a jug and pour in the boiling water, allow the tea to steep for 5 minutes and then remove the teabags.
In a large bowl, add the sultanas, raisins and mixed peel. Pour the tea over the dried fruits and leave to soak overnight or for 6-8 hours.
Grease and line a 900g loaf tin and preheat the oven to 180˚c/gas mark 4.
In a large mixing bowl, combine the flour, sugar and mixed spice.
Beat the eggs in a separate bowl, before adding them to the dry ingredients. Mix in well with a wooden spoon.
Add the sultanas, raisins and peel to the mixture, as well as any liquid left in the bowl and stir in until completely combined – the mixture will be quite wet.
Pour the mixture into the lined loaf tin and place in the middle of the oven to bake for an hour to an hour and 15 minutes or until the loaf is golden on the top and you can insert a skewer into the centre and it comes out clean.
Cool the loaf in the tin for 10 minutes, then take it out of the tin and allow to completely cool on a wire rack.
Slice and serve with butter and a hot cup of West Country Original tea – yum!
We'd love to see photos of you enjoying a moment with Miles and trying out this recipe! Follow us on Facebook, Twitter and Instagram and share your pictures with the #momentswithMiles. Happy baking! ☕
Share a moment with friends