Homemade Pizza recipe
Have fun with the whole family when you make this dinner…
You can turn making dinner into a fun activity, for both children and adults alike, with this homemade pizza recipe. Make your dough, pick and mix your toppings bake for around quarter of an hour and enjoy. Fun, simple and yummy, pizza making will become a Friday night favourite…
Prep time: 20 minutes
Baking time: 10-15 minutes
Serves: 4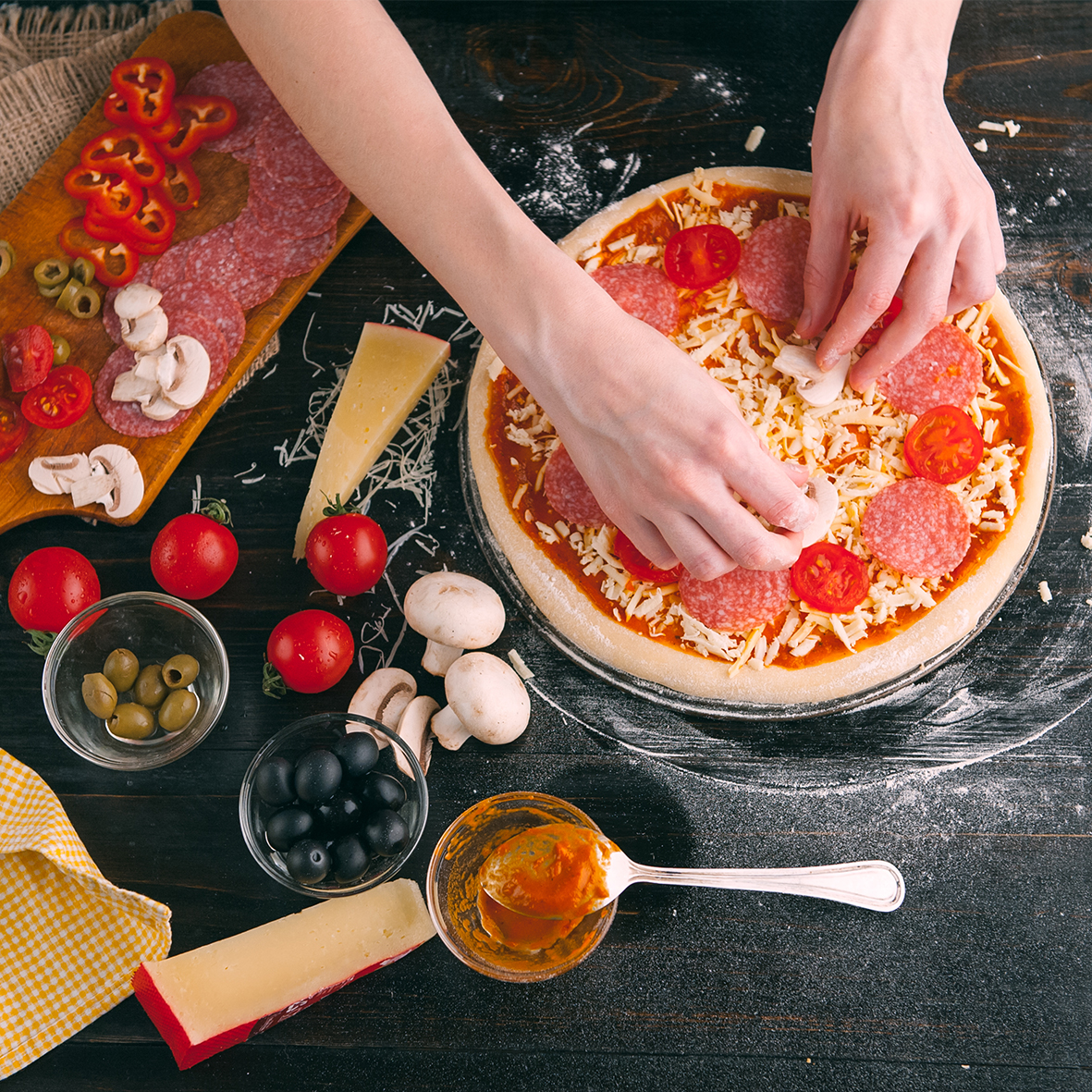 Ingredients:
For the base:
300g strong bread flour, plus a little extra for dusting
½ tsp instant yeast
200ml warm water
1 tsp salt
1 tbsp oil
For the sauce:
4 tbsp tomato puree
400g tinned chopped tomatoes
1 clove garlic
1 small onion, finely chopped
1 bay leaf
2 tbsp dried oregano
handful of fresh basil, finely chopped
2 tsp brown sugar
Pinch of salt
2 tbsp olive oil
For the topping:
125g grated mozzarella
50g grated parmesan
50g grated pecarino
Your choice of toppings; mushrooms, ham, pineapple chunks, peppers, cooked chicken pieces, sweet corn, pepperoni, rocket, sun dried tomatoes, tuna.
Method:
In a large bowl, stir the yeast and salt into the flour.
Make a well in the flour and pour in the warm water and olive oil. Using a wooden spoon, mix the ingredients together until you are left with a soft, fairly wet dough.
Turn the dough out onto a lightly floured surface and kneed for five minutes until smooth. Cover with a tea towel and set aside. For a thin crust you do not need the dough to rise, but if you prefer a slightly thicker crust allow it to prove for 30 – 40 minutes.
While the dough is resting, make the tomato sauce. Heat the oil in a saucepan and add the onion. Fry gently until the onion has softened.
Add the garlic and fry for a further minute before adding the tomatoes, tomato puree, bay leaf, oregano and sugar.
Bring the mixture to the boil and lower the heat. Simmer, uncovered, for 30 minutes to allow the sauce to thicken. Season with salt and pepper and take off the heat.
Blend with a stick blender and stir the basil into the sauce.
If you have left the dough to rise, knead it for a few minutes (if you haven't you won't need to). Split the dough into two balls.
On a floured surface, use a rolling pin to roll out the dough into two large rounds, measuring around 25cm across.
The dough needs to be very thin. Make it thinner than you would like the base, as it will rise in the oven.
Pre-heat the oven to 200˚c/gas 8.
Place the rounds onto two floured baking sheets. Place a third baking sheet in the oven on the top shelf and allow to heat up while you top your pizzas.
Spread the tomato sauce over the pizza bases, sprinkle the cheeses over the top and add your chosen toppings.
Put one pizza, still on the baking sheet, on top of the preheated sheet from the oven.
Bake for 10-15 minutes until the pizza base is crisp. Then repeat with the second pizza.
Add basil leaves to the top to garnish.
We'd love to see photos of you enjoying a moment with Miles and trying out this recipe! Follow us on Facebook, Twitter and Instagram and share your pizza pictures and favourite toppings with the #MomentswithMiles. Happy Cooking!
Share a moment with friends