Sip your way to good health
Kick start the year by introducing new teas into daily drinks, each with different health benefits
Is your New Years resolution a health based one? Did you know that different teas have different properties and health benefits that could aid a New Year, new you regime? In this article we discuss the health benefits of six tea blends, so you can enjoy a calming tea in the evening when you are trying to relax or drink a cup of tea that will help you concentrate when you need to nail that work presentation…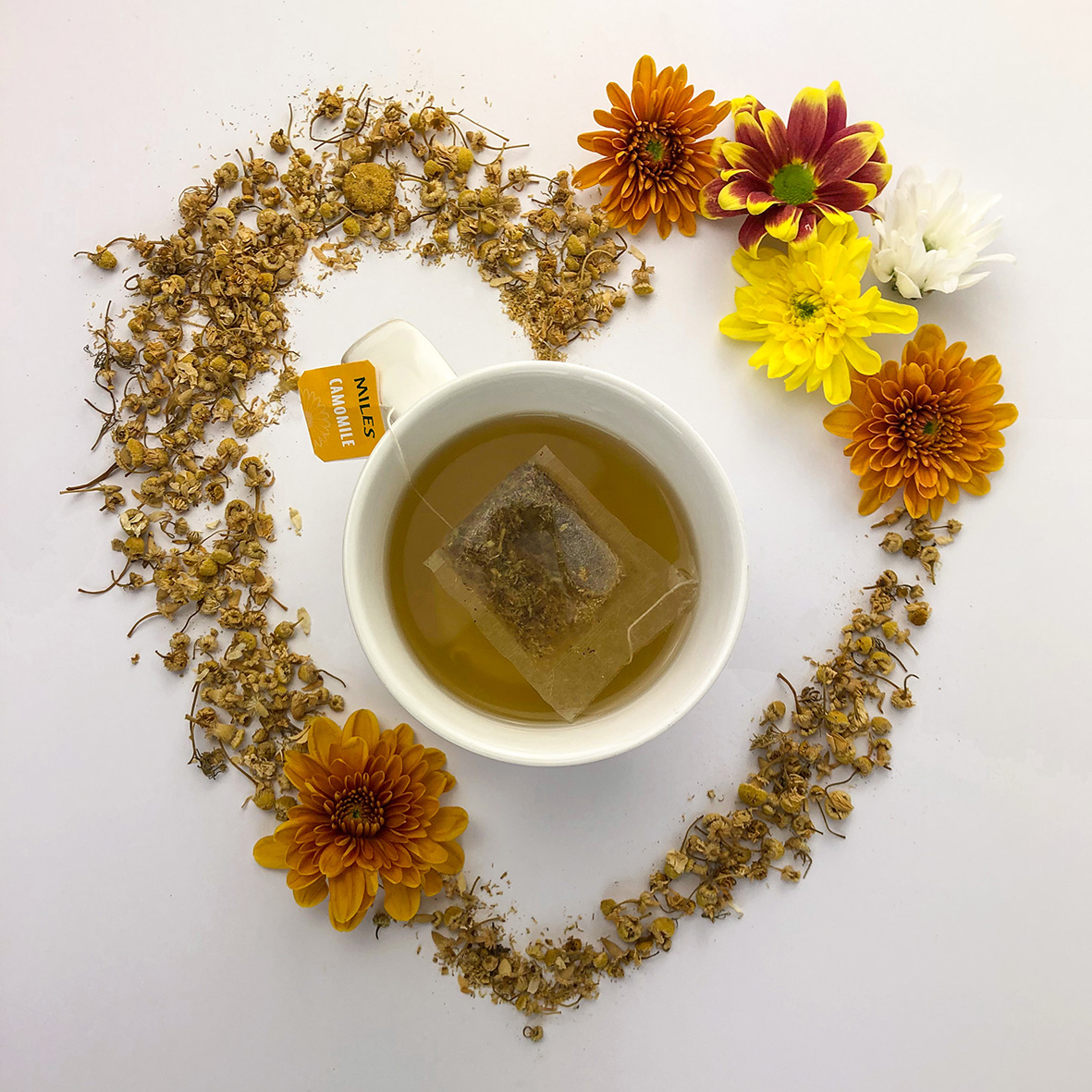 Camomile tea
An aromatic tea, camomile is light and fresh with a subtle apple-like flavour. Made using whole camomile flowers, it is one of the prettiest teas and has a lovely floral taste. It is well known as an 'all-purpose tonic' and is often seen as a relaxing blend, perfect for sipping when you're feeling run-down and/or stressed out.
The health benefits of drinking camomile tea:
Camomile is said to increase the quality of your sleep and reduce insomnia, so reach for this tea when you need to relax and unwind.
It has been said that drinking camomile over a period of time may help lower blood sugar levels.
This herbal tea is known for relaxing muscles in the body, which in turn can relieve stomach cramps and help digestion.

Redbush Tea
Originating in South Africa, Redbush tea is delicious with milk, lemon or on its own. It has an earthy, almost nutty flavour and is naturally sweet and naturally caffeine-free. This is a lovely blend to enjoy in the evening and if you are avoiding caffeine.
The health benefits of drinking Redbush tea:
Redbush, or rooibos, is low in calories, as is black and green tea. Redbush is often enjoyed without milk, making it a great tea to enjoy if you are trying to shed some pounds.
Redbush can help you obtain naturally glowing skin. It contains alpha hydroxyl and zinc, these nutrients are both important for healthy skin.
Redbush is rich in calcium, manganese and fluoride that all help to build strong bones.

Lavender, Limeflower and Rose Tea
This calming floral blend of Lavender, Limeflower and Rose tea is perfect for drinking just before bedtime. It is naturally sweet with a delicate floral flavour and subtle earthy notes. Naturally caffeine-free, aromatic and soothing this tea makes a lovely, healthy drink.
The health benefits of drinking Lavender, Limeflower and Rose Tea
The relaxing and calming effects of lavender may help you to get a better quality of sleep. Rose is known to calm and soothe.
Limeflowers are said to improve your mood as well as sleep, so this is a great tea to drink if you've had a stressful day that has left you in a bit of a grump.
This herbal blend is packed with antioxidants that are good for overall health, which could be particularly good for this time of year.

Dragonwell Tea
Dragonwell, also known as Lung Ching, is often regarded as one of China's best teas. It is a light and fragrant, fired China green tea. Dragonwell has a crisp, vegetal flavour and the firing process gives it a slightly nutty taste. This is a great tea to drink if you are feeling bloated and lethargic as it has a particularly high amount of antioxidants that aid detoxing.
The health benefits of drinking Dragonwell tea:
Dragonwell has one of the highest concentrations of green tea, which has been shown to help aid weight loss as it can speed up metabolism.
The green tea leaves contain fluoride and minerals that may help to fight tooth dental plaque and protect against tooth decay
It is believed that the bioactive compounds in Dragonwell green tea can improve brain function.

Peppermint Tea
Real peppermint leaves are used to create this naturally caffeine-free, herbal blend, giving the brewed liquor a vivid green colour. It has a strong minty flavour (as you would expect!), is light, fresh and invigorating. It is known to relieve stress, cleanse the body and aid digestions.
The health benefits of drinking peppermint tea:
The cooling properties in peppermint can help to relax the stomach muscles and relieve stomach cramps and aid digestion. It is also said to reduce nausea. It is a good idea to enjoy a cup of peppermint tea after a meal.
Peppermint tea is said to work towards fighting off colds by building up your immunity.
Drinking a hot cup of peppermint tea can be an effective way to soothe a sore throat and a cough by relaxing the muscles.

Jasmine Tea
A sweet, aromatic green tea that has been allowed to absorb the delicate scent of jasmine flowers, our Jasmine tea is fresh, light and floral. Green tea produces a pale, delicate liquor as the leaves have not been fermented, unlike black tea.
The health benefits of drinking jasmine tea:
The caffeine in green tea has been known to help you to focus and jasmine is known for its calming properties, so if you are studying and need to concentrate Jasmine tea is a great tea to enjoy.
Jasmine tea has been shown to help aid weight loss as it can speed up metabolism, if consumed regularly.
It is believed that jasmine tea can help reduce aches and pains, making it a good choice if you have had an intense work out.
Are you trying out a new selection of tea blends? Let us know! Follow us on Facebook, Twitterand Instagramand share your stories and pictures with the #MomentswithMiles. ☕
Share a moment with friends