Meringue topped chocolate cake
A dessert that will dazzle
Rich, sticky chocolate cake topped with fluffy, marshmallowy meringue, this dessert is perfect for serving over the Christmas period. Dust with a sprinkling of edible shimmer at the end for a fabulously festive finish!
Prep time: 20 minutes
Baking time: 50 minutes – 1 hour 10 minutes
Serves: 8 – 10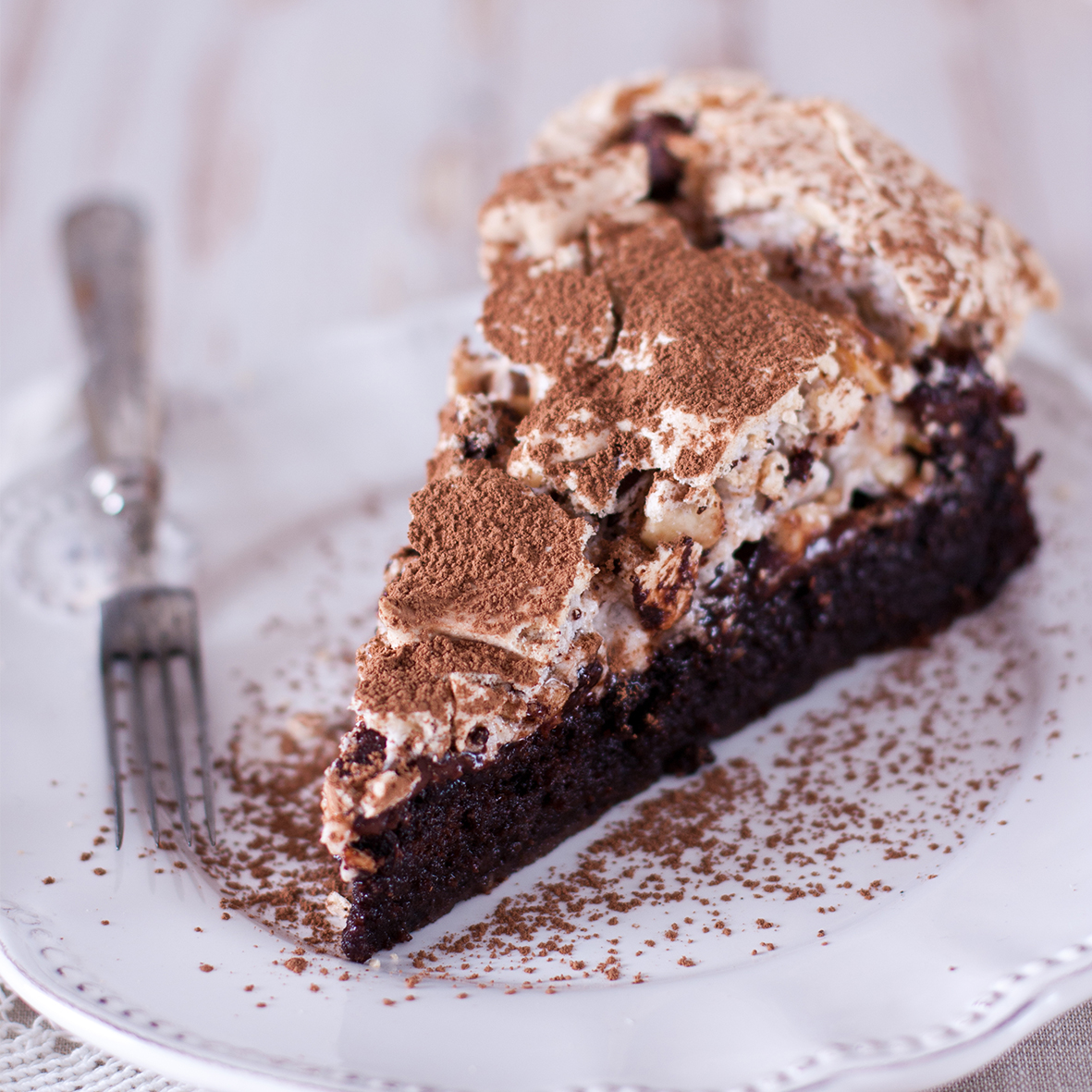 Ingredients:
250g dark chocolate, chopped
180g unsalted butter, softened
6 medium eggs
100g light brown sugar
220g caster sugar
40g ground almonds
3 tbsp cornflour
25g Miles Heavenly Hot Chocolate
50g plain flour
¼ tsp baking powder
1 tsp white wine vinegar
1 tbsp Miles Colombian Ground Coffee, made in a cafetiere
Method:
Preheat the oven to 180˚c, gas mark 4. Grease and line a 9-inch cake tin with baking paper.
Gently melt the butter and dark chocolate in a medium saucepan over a low heat. Stir to melt in and leave to cool slightly.
Separate four of the eggs and put the egg whites to one side.
Place the egg yolks, the additional two whole eggs, brown sugar and coffee into a large bowl and whisk together, using an electric whisk, for 3-5 minutes until the mixture is pale and thick.
Add the melted chocolate mixture, ground almonds, plain flour and baking powder to the bowl, gently folding with a spoon to combine.
Pour the mixture into the baking tin and bake for 30-40 minutes. Remove from the oven and leave to cool slightly.
Increase the oven temperature to 180˚c, gas 5.
In a clean bowl, whisk the four egg whites, using an electric whisk, until soft peaks form. Keep whisking while adding the caster sugar, a tablespoon at a time.
Add the vinegar and whisk for a further two minutes, until the meringue is thick and glossy.
Add the hot chocolate powder and cornflour and gently fold to combine.
Spoon the meringue mixture on top of the cake, spreading it evenly. Don't worry about making the top of the meringue smooth; peaks will go crisp while the middle will remain gooey.
Place the cake back in the oven for 20-25 minutes or until the meringue has just started to brown and go crisp on top.
Remove the cake from the oven and allow to cool in the tin for 15 minutes. Then run a knife around the inside edge of the tin to loosen the meringue before taking the whole cake out of the tin.
Leave the cake to cool to room temperature, then place it in the fridge for around 2 hours and add edible shimmer before serving.
We'd love to see photos of you enjoying a moment with Miles and trying out this recipe! Follow us on Facebook, Twitter and Instagram and share your pictures with the #MomentswithMiles. Happy baking!
Share a moment with friends