Chocolate brownies
Chocolate overload
Squidgy chocolate brownies topped with buttercream made with our ever-popular Heavenly Hot Chocolate. These are the perfect sweet treat to serve up with a cup of tea or coffee when a visitor pops in to deliver you a Christmas card.
Prep time: 35 minutes
Baking time: 30-35 minutes
Makes: 16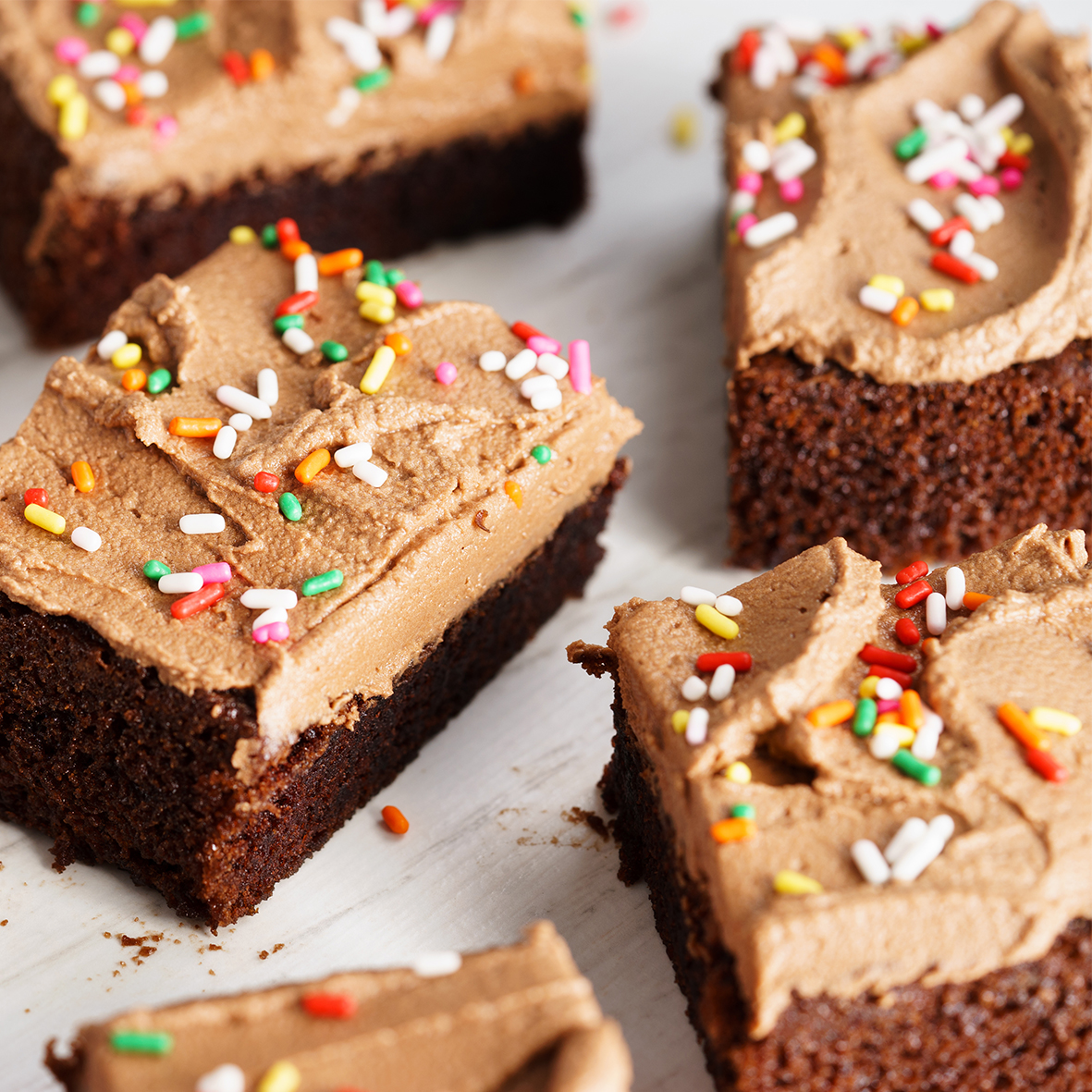 Ingredients:
For the brownie:
200g salted butter
200g dark chocolate
90g plain flour
40g cocoa powder
100g milk chocolate, chopped into chunks
3 medium eggs, beaten
275g golden caster sugar
For the buttercream:
250g icing sugar
125g butter, softened
3 tbsp Miles Heavenly Hot Chocolate
3 tbsp water
1 tbsp milk
Method:
Preheat the oven to 180˚c / gas mark 4. Grease and line a square 20cm brownie tin.
Cut the butter and dark chocolate into chunks and put in a bowl.
Melt the chocolate and butter by placing the bowl over a small saucepan of gently simmering water on the hob (the bowl should sit on the rim of the saucepan and should not touch the water. Stir the butter and chocolate occasionally until it has melted.
Remove the bowl from the pan and allow to cool to room temperature.
In a large bowl, whisk together the eggs and sugar for around 5 minutes, until they turn thick, pale and creamy.
Pour the chocolate mixture into the eggs and gently fold together with a spatula, trying not to knock any air out.
Sieve the flour and cocoa powder into the chocolate mixture and gently fold in. Fold in the milk chocolate chunks.
Pour the mixture into the tin, spreading it out into the corners.
Bake in the oven for 25 minutes. If when you shake the cake tin slightly the middle wobbles the brownie is not quite done. The top should be shiny and the sides just starting to come away from the tin.
When it is ready remove the brownie from the oven and allow it to cool in the tin.
While the brownie is cooling, make the buttercream.
Beat the butter in a bowl until soft. Add half of the icing sugar and beat until smooth.
Mix Miles Heavenly Hot Chocolate with the water to create a paste.
Add the remaining icing sugar with the chocolate paste. Add the milk if necessary and mix until smooth and creamy.
Spread the buttercream evenly over the brownie, then sprinkle hundreds and thousands on the top. Cut into 16 individual brownies.
We'd love to see photos of you enjoying a moment with Miles and trying out this recipe! Follow us on Facebook, Twitter and Instagram and share your pictures with the #MomentswithMiles. Happy baking!
Share a moment with friends