Homemade Merry Mince Pies
A mince pie a day, keeps the doctor away… throughout advent anyway!
Start December as you mean to go on, full of festive cheer, wearing Christmas jumpers, watching seasonal rom-coms and enjoying countless mince pies! Nothing beats a homemade mince pie during advent, so roll up your sleeves and get baking…
Prep time: 45 minutes
Baking time: 15-20 minutes
Makes: 12- 14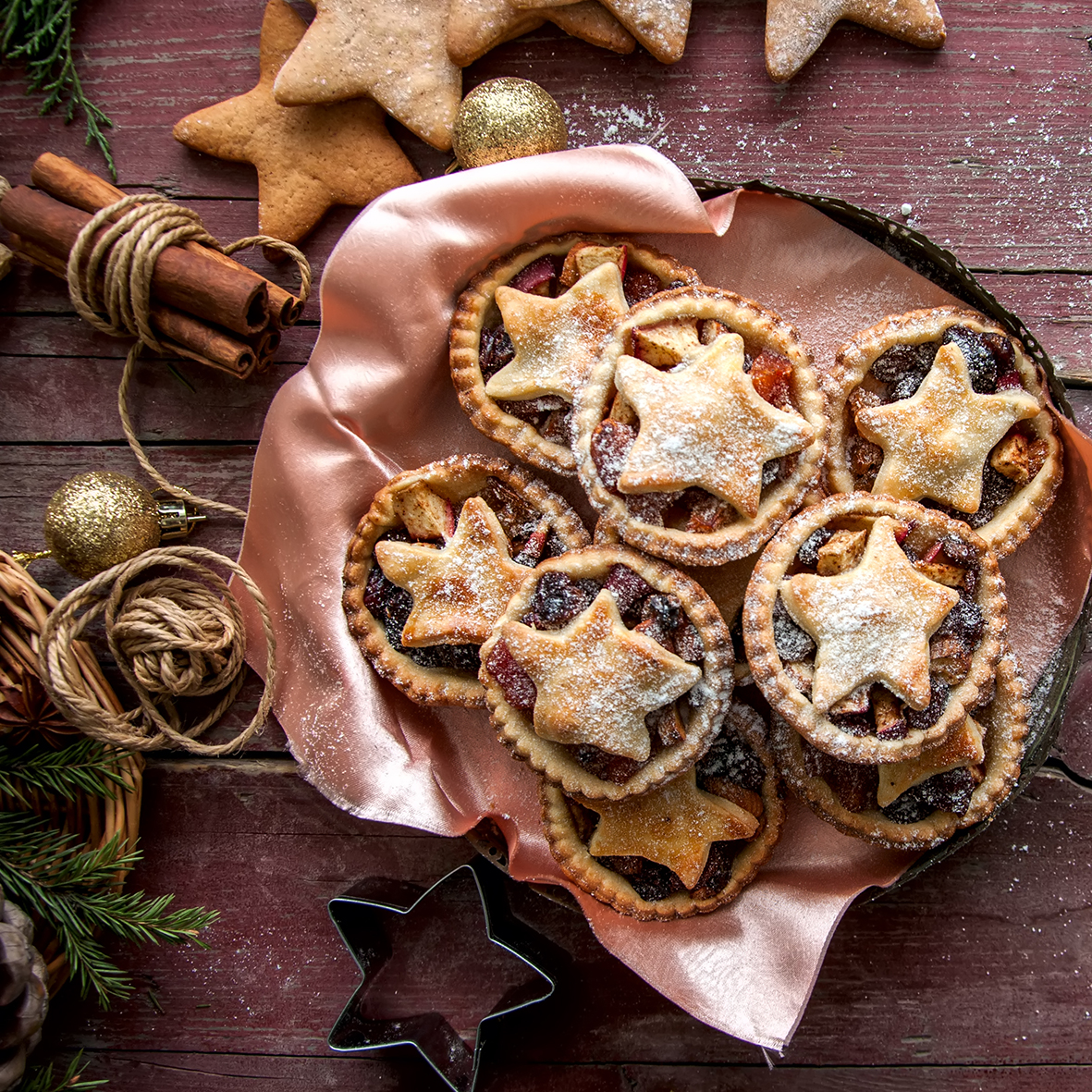 Ingredients:
For the pastry:
250g plain flour, plus some for dusting
50g icing sugar
125g unsalted butter, cut into 1cm cubes
1 vanilla pod
1 large egg, beaten
1 large egg, beaten, to glaze
For the filling:
500g mincemeat
Zest of 1 orange
1 apple, finely diced
Icing sugar for dusting
Method:
Put the butter into a large bowl and sieve in the flour and icing sugar. Rub the butter into the flour, using your fingers, until you are left with a mixture that is similar to breadcrumbs.
Scrape out the seeds from the vanilla pod and add them to the egg. Pour the egg into the mixture and gently bring together (do not overwork the pastry) until you are left with a ball of dough.
Dust a little flour over the dough, wrap it in cling film and place in the fridge to rest for 30 minutes.
Preheat the oven to 200˚c / gas mark 6 and grease a muffin tin.
Tip the mincemeat into a bowl, add the apple and the orange zest and mix together.
Once the pasty has rested roll it, with a rolling pin, on a lightly floured surface, until it is around 1cm thick. Using a large, round, fluted cookie-cutter, cut 12 circles out of the dough. Using a star-shaped cookie cutter, make 12 stars out of the dough.
Line the muffin tin with the pastry circles, fill each pastry case with the mincemeat mixture and top with the pastry stars. Glaze the top of each mince pie with the beaten egg.
Place the tin in the middle of the oven and cook for 15-20 minutes, or until the pastry is cooked and just starting to turn golden.
Leave to cool enough to be removed from the muffin tin and dust the tops with icing sugar.
Serve slightly warm with a cup of Miles Christmas Coffee or Christmas Mulled Tea and fully immerse yourself in the festivities!
We'd love to see photos of you enjoying a moment with Miles and trying out this recipe! Follow us on Facebook, Twitter and Instagram and share your pictures with the #momentswithMiles. Happy baking!
Share a moment with friends