Miles' Christmas Gift Guide
Choose a thoughtful gift for the ones you love this Christmas
This year has people searching out thoughtful gifts for Christmas, and what could be more thoughtful than finding a present that the recipient can enjoy every day ­– like their favourite, luxury hot drinks. Stuck for ideas? We've rounded up our Christmas gift favourites…

For The Tea Fanatic
Festive Blend Orange Spiced Tea
This Christmas treat a tea lover to our limited edition Festive Blend Orange Spiced Tea. This loose leaf blend is as pretty as it is delicious, with pieces of citrus fruits and rose petals amongst the black tea leaves and similar flavours to both Chai tea and Earl Grey tea. Our Festive Blend is a black tea flavoured with oranges and Festive spices to warm you throughout the winter.
Kinto Unitea Teapot
Gift any of our loose leaf teas, including our limited edition festive tea, with a Kinto teapot. Both the 460ml and 720ml teapots feature a lid with an integrated strainer, perfect for brewing loose leaf teas. The glass teapots allow you to see the tea leaves infusing making it a luxury gift for a true tea connoisseur.
Christmas Mulled Tea Blend
All the Christmas cheer is blended into this tea. Gift this tea instead of an advent calendar for the lead up to Christmas day. Our Christmas Mulled Tea is a full-bodied, rich and aromatic blend, full of festive, fruity flavours that are very much reminiscent of mulled wine, making it the go-to tea to reach for throughout the holiday season. This loose leaf tea will leave the recipient feeling warm and jinglingly festive.
Kinto Loop Tea Strainer
Pair any of our loose leaf teas with a Kinto Tea Strainer to create a thoughtful gift for someone who prefers a premium cup of tea made with loose tea leaves. The Kinto strainer makes it easy to brew a single mug of loose leaf tea, rather than a whole pot.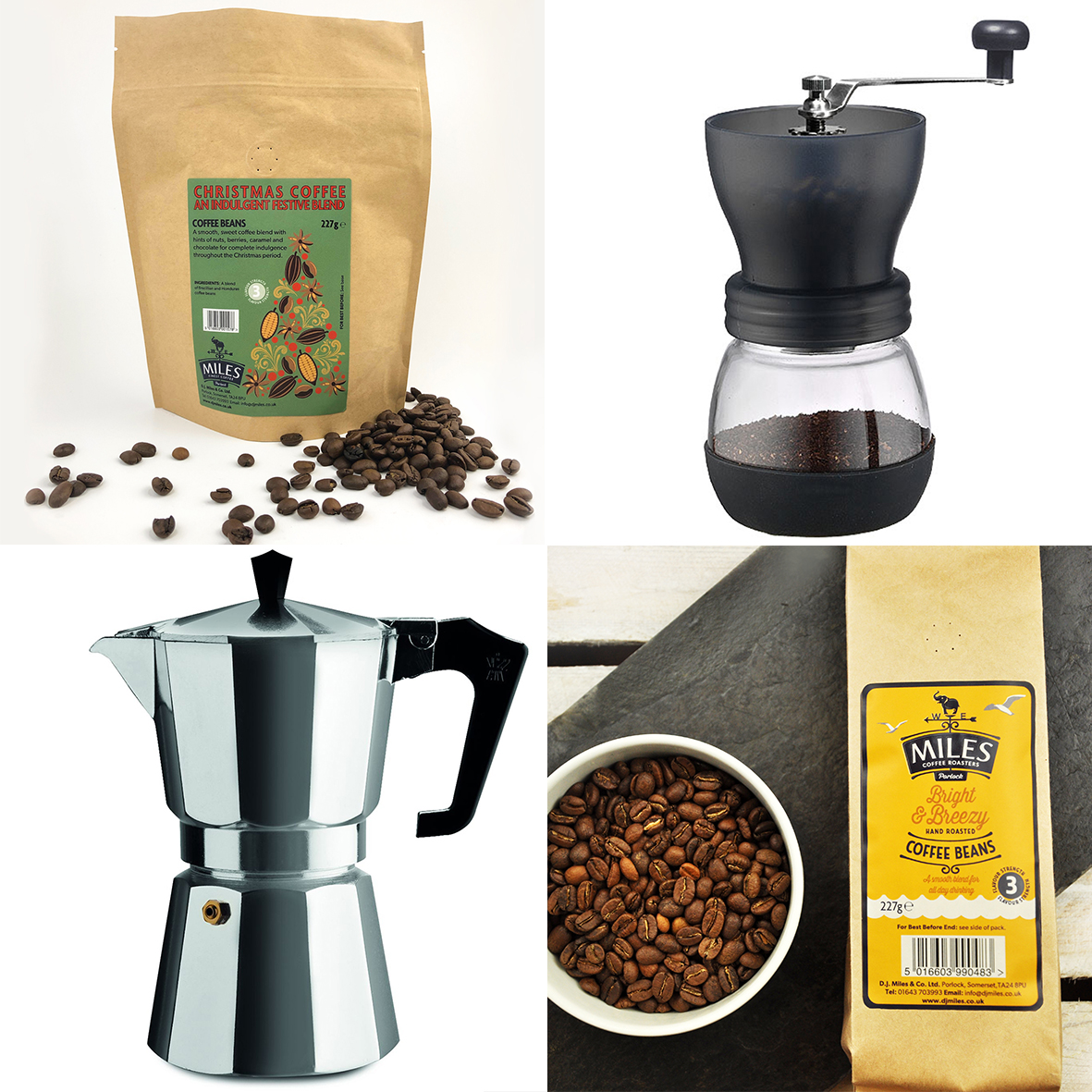 For the Coffee Connoisseur
Christmas Blend Coffee
This coffee roast is available in a 227g bag of whole coffee beans and ground coffee. A blend of Brazillian and Honduras coffee beans, this roast has a smooth, sweet taste with delicate flavours of nuts, berries, caramel and chocolate. Enjoy our indulgent Christmas Coffee over the twelve days of Christmas ­– even better when enjoyed with a piece of homemade Stollen.
Tiamo Hand Grinder
If you know someone that loves coffee made with freshly ground coffee beans but they don't have all of the equipment at home, a hand grinder and a bag of whole coffee beans will make the perfect gift this Christmas. The Tiamo Hand Grinder makes grinding coffee beans at home easy, with an adjustable grinding burr, you can grind the coffee to suit your Cafetiere, Moka Pot or coffee machine.
Bright and Breezy Coffee
A light to medium roast, Miles' Bright and Breezy coffee is a house blend of Central America coffees. Available in both whole coffee beans and ground coffee, this blend has just been awarded the silver award in the 2020 Taste of the West Awards. Perfect for all-day drinking, this coffee has a smooth, well-balanced flavour making it the perfect gift for a dedicated coffee drinker.
Pezzetti Italexpress Aluminium Moka Pot
The Pezzetti Italexpress Aluminium Moka Pot allows you to brew a traditional Italian espresso. The eight-sided shape diffuses heat evenly to enhance the aroma and taste of the coffee. Pair this Moka Pot with any of our ground coffees to create a thoughtful gift for someone who can't get through the day without a delicious cup of coffee.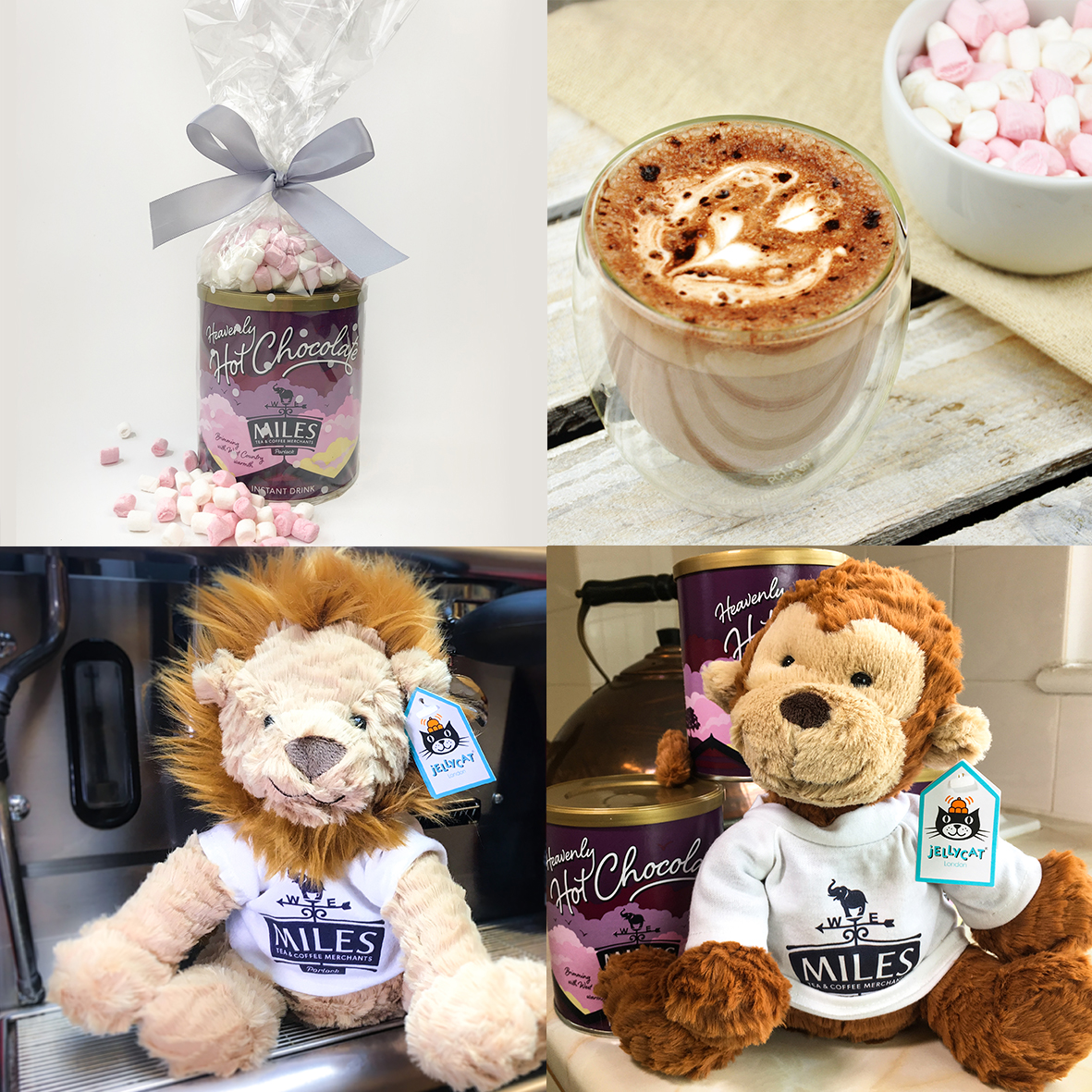 For the young and young at heart
Heavenly Hot Chocolate and Marshmallows Gift Set
Rich, luxurious and silky smooth, escape the winter weather and cuddle up with a mug of Miles Heavenly Hot Chocolate. Our Hot Chocolate Gift Set comes with mini marshmallows to top your drink, all wrapped up and tied with a bow, the perfect present to add to a Christmas stocking.
Bodum glasses
Give a pair of Bodum Glasses alongside the Hot Chocolate and Marshmallows Gift Set if the recipient is an adult. When served in these luxury glasses the hot chocolate is turned into a sophisticated sweet treat.
Fuddlewuddle
Loved by children and adults alike, our Miles mascots make a lovely Christmas present. Smuggles (elephant), Buna (lion) and Theo (monkey) are gorgeously soft and snuggly. The premium JellyCat toys each come with their own Miles T-shirt.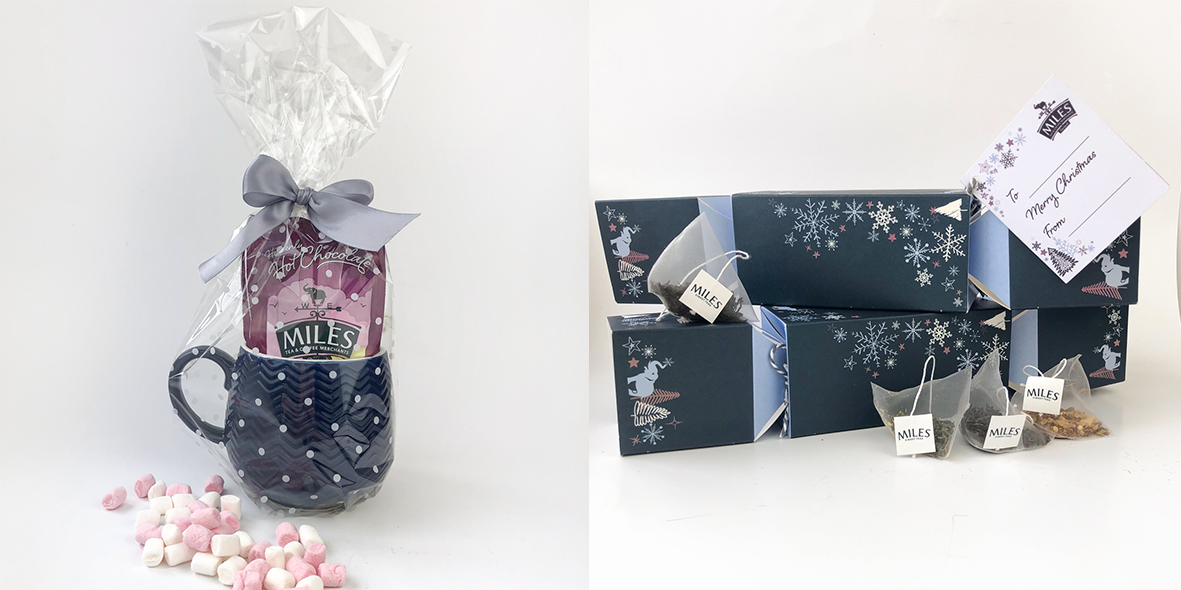 Secret Santa and Stocking Fillers
Tea Kite Christmas Cracker
Our Tea Kite Christmas Cracker has a selection of four different flavours of tea and costs under £5, making it the perfect Secret Santa gift. Inside the cracker, you will find four English Breakfast Tea Kites, four Earl Grey and Cornflower Tea Kites, four Rooibos, Baobab and Chai tea Kites and four Green Tea and Camomile Tea Kites – something for everyone.
Heavenly Hot Chocolate and Mug Gift Set
At only £6.50 this gift set makes a lovely Secret Santa gift or stocking filler. The navy mug is the perfect size for a delicious hot chocolate topped with mini marshmallows. The Heavenly Hot Chocolate and Mug Gift Set contains 5 individual hot chocolate sachets and 50g of mini marshmallows.
We'd love to see photos of you enjoying a moment with Miles throughout advent. Follow us on Facebook, Twitter and Instagram and share your pictures with the #MomentswithMiles.
Share a moment with friends