Christmas pudding
A rich, fruity Christmas pudding
Pull out all of the stops this Christmas and make your own Christmas pudding. This traditional Christmas pudding can be made a few weeks in advance, allowing you to make it ahead of the last-minute Christmas rush.
Prep time: 30 minutes
Cooking time: 8 hours
Serves: 8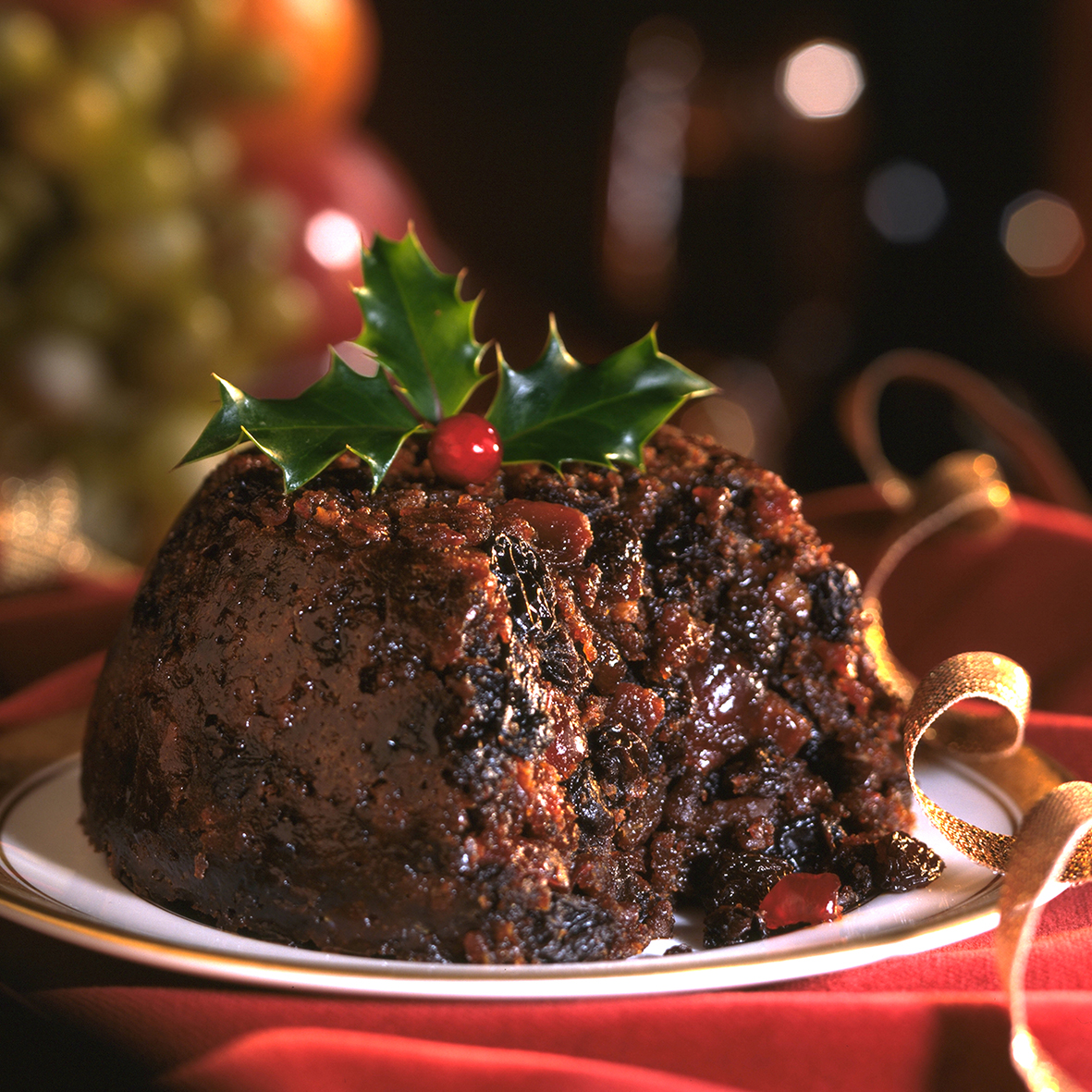 Ingredients:
25g blanched almonds, chopped
1 large cooking apples, peeled, cored and chopped
100g candied peel, chopped
½ a whole nutmeg, grated
1 tsp ground cinnamon
1 tsp ground ginger
500g raisins
75g plain flour
50g soft white breadcrumbs
50g light muscovado sugar
2 medium eggs
1 tbsp brandy
125g unsalted butter, cold
Method:
In a large bowl, mix together the almonds, apples, candied peel, nutmeg, cinnamon, ginger, raisins, flour, breadcrumbs, sugar, eggs and brandy.
Hold the butter in its wrapper and grate a quarter of it into the bowl. Mix it into the rest of the ingredients, then repeat the process until all of the butter is grated and mixed in.
Grease a 1.2-litre pudding bowl and place a circle of baking paper in the bottom. Pour the mixture into the bowl, filling it to the top.
Take a sheet of foil and lay a sheet of baking paper on top. Fold a crease in the middle of the two layers and then fold it back again to create a pleat – this will allow for the pudding to expand when it is steaming. Place the foil over the bowl, with the baking paper facing down into the pudding bowl. Tie string around the bowl and trim some of the excess foil, tuck the remaining excess foil up underneath itself to create a watertight lid.
Boil the pudding in a large pan of water for 8 hours. Remember to keep topping up the water as necessary.
Remove from the pan and leave the pudding to cool overnight.
In the morning, remove the foil and re-wrap in clean baking paper and foil in the same way you did before, but without the pleat.
Store in a cool, dry place until Christmas day. On Christmas day, boil the pudding for 1 hour in a large pan of water. Unwrap and turn it out of the bowl and serve it with brandy butter.
We'd love to see photos of you enjoying a moment with Miles and trying out this recipe! Follow us on Facebook, Twitter and Instagram and share your pictures with the #MomentswithMiles. Happy baking!
Share a moment with friends