Mocha cake
A light, fluffy sponge covered in rich coffee buttercream
Chocolate, coffee and cake all in one – what could be more inviting on an autumn afternoon? Decorated with coffee buttercream and topped with Malteasers, this cake will leave your guests wanting a second slice.
PREP TIME: 25 minutes
BAKING TIME: 30-40 minutes
SERVES: 8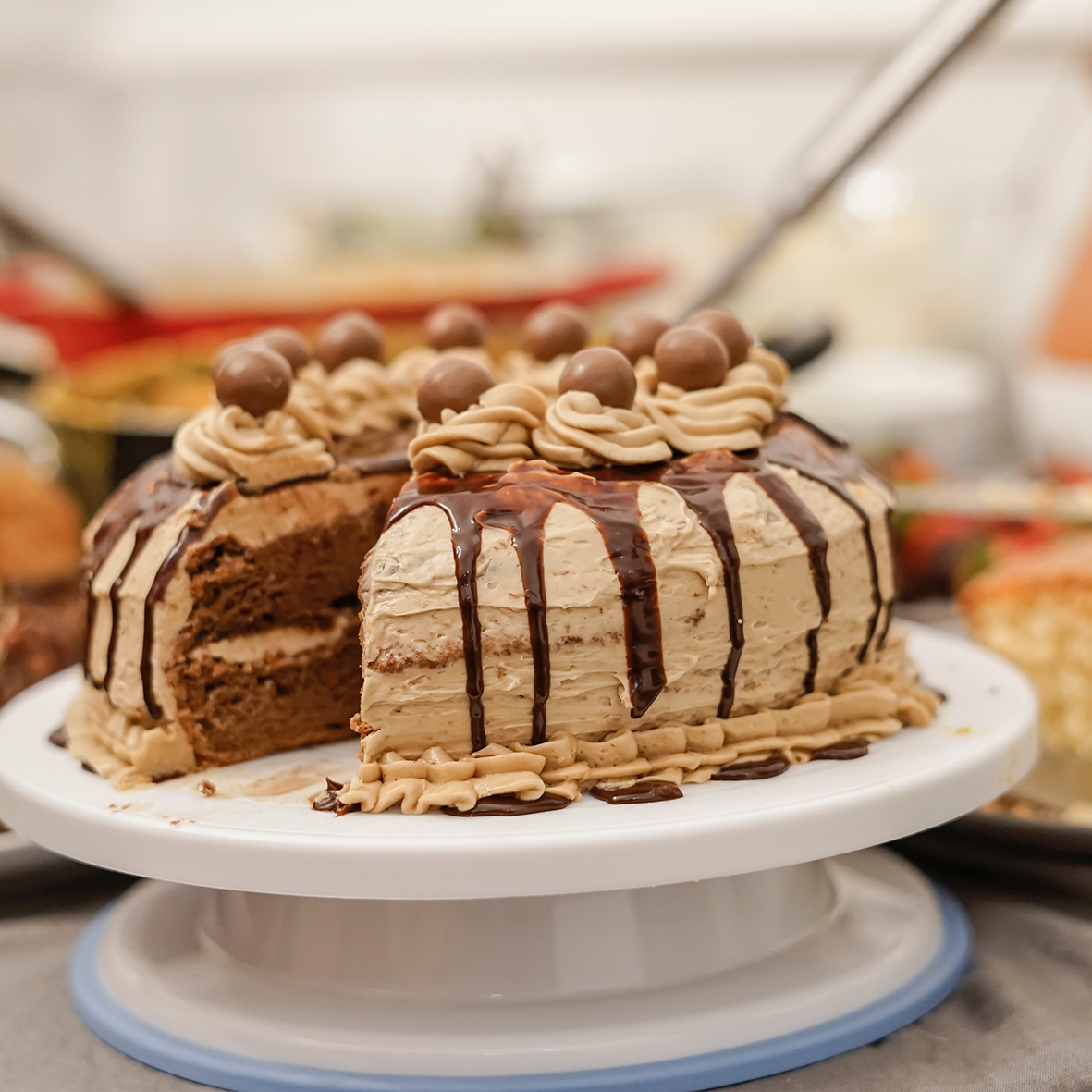 Ingredients:
For the cake:
175g butter
175g caster sugar
3 medium eggs
200g self-raising flour
1 tsp baking powder
2 tbsp Miles Colombian Ground Coffee, made in a cafetiere
60g dark chocolate, finely chopped
For the buttercream:
100g unsalted butter
225g icing sugar
2 tbsp Miles Heavenly Hot Chocolate
2 tbsp Miles Colombian Ground Coffee, made in a cafetiere
For the chocolate sauce:
50g dark chocolate, chopped
25g salted butter
125ml double cream
1 tbsp caster sugar
1 tbsp Miles Colombian Ground Coffee, made in a cafetiere
Maltesers (to decorate)
Method:
Grease two 8" sandwich tins and preheat the oven to 180˚c/gas mark 4.
Add the softened butter and caster sugar to a large bowl and mix together until pale and fluffy.
Beat the eggs and pour into the butter mixture, a little at a time, mixing well.
Melt the chocolate in a bowl placed over a saucepan of simmering water.
Add the melted chocolate and coffee into the butter mixture, ensuring all of the ingredients have completely combined.
Sift in half the flour and fold into the mixture using a metal spoon. Fold in the second half of the flour and the baking powder.
Divide the mixture equally between the two sandwich tins and cook for 30-40 minutes or until you can put a skewer into the centre and it comes out clean.
Remove the cakes from the tins and allow them to cool on a wire rack.
While the cakes are cooling make the buttercream. Mix together the softened butter and icing sugar in a bowl until light and fluffy. Add the coffee and whisk in.
Once the cakes are completely cooled spread the buttercream over the top of one of the cakes and sandwich together. Then spread over the entire cake with the buttercream, smoothing it as you go (use some of the buttercream to pipe around the bottom of the cake if you are feeling fancy and save some to pipe on the top if you wish).
Make the sauce by melting the chocolate, butter and sugar, over a low heat, in a small saucepan.
Add the cream and coffee stirring through until combined. Set to one side to cool.
Once it has cooled, drizzle it over the buttercream icing allowing it to drip down the sides.
Pipe swirls of buttercream on the top of the cake and top with Maltesers to decorate.
We'd love to see photos of you enjoying a moment with Miles and trying out this recipe! Follow us on Facebook, Twitter and Instagram and share your pictures with the #MomentswithMiles. Happy baking!
Share a moment with friends