Hot Chocolate Brownie Cake Pop Recipe
Pop 'til you drop! These brownie pops are the perfect bite-sized treat for those with a seriously sweet tooth
Miles' frothy, legendary hot chocolate in gooey brownie form! These bite sized pops are covered in milk chocolate and dipped in sprinkles and nuts. They are so delicious – once you pop one in your mouth, you wont be able to say no to a second!
Prep time: 30 minutes
Baking time: 40 minutes
Serves: 12-15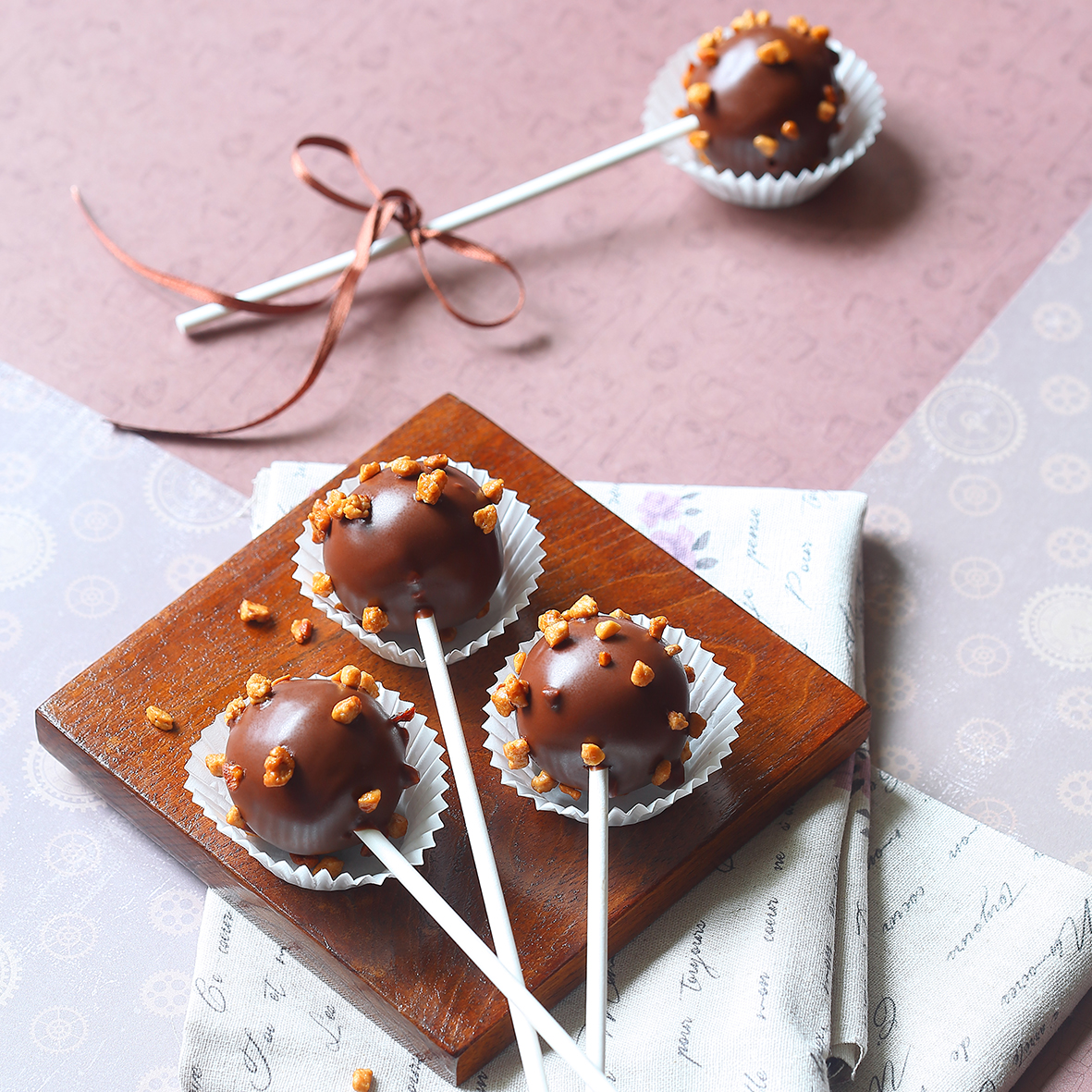 Ingredients:
For the brownie:
65g salted butter
2 large eggs
225g Miles Heavenly Hot Chocolate powder
95g plain flour
½ tsp salt
½ tsp baking powder
½ tbsp vanilla extract
For the buttercream:
75g unsalted butter
150g icing sugar
1 tbsp milk
1/2 tsp vanilla extract
100g chocolate chips
For the decoration:
200g milk chocolate
Sprinkles, chopped nuts or crumbled chocolate to dip into
Method:
Pre-heat the oven to 180˚c/gas mark 4 and grease and line an 8" x 8" banking tray with parchment.
Melt the butter in a microwaveable bowl. Once melted whisk together with the eggs and vanilla extract.
In a separate bowl combine Miles Heavenly Hot Chocolate with the flour, salt and baking powder.
Add the wet ingredients to the dry ingredients and stir until fully combined.
Once combined pour the mixture into the baking tray. Bake for around 35-40 minutes. Don't worry if the mixture still looks a bit wet, it will firm up as it cools down.
Set the brownie aside to cool. While it is cooling make the buttercream.
Beat the butter and icing sugar together until smooth and pale. Add the vanilla extract and milk and beat together again.
Once the brownie has cooled crumble the brownie mixture, with your hands, in a large bowl.
Add the buttercream and chocolate chips to the crumbled brownie and stir together.
Line a tray or plate with baking parchment.
Take a handful of the mixture and roll into a ball, around the size of a golf ball. Place on the lined tray. Repeat this until you have used all of the mixture.
Push a lollypop stick into each ball and place them in the fridge to chill for around an hour.
To decorate the brownie pops melt the milk chocolate in the microwave, stirring every 10 seconds until it is smooth.
Dip each chilled brownie pop into the chocolate, fully covering it. Allow the excess to drip back into the bowl.
While the chocolate is still liquid roll the cake pop in sprinkles, chopped nuts or chocolate pieces.
Stand them upright in a mug and place in the fridge for 30 minutes to set.
We'd love to see photos of you enjoying a moment with Miles and trying out this recipe! Follow us on Facebook, Twitter and Instagram and share your pictures with the #MomentswithMiles. Happy baking! ☕
Share a moment with friends