Toffee Apple Pancakes
Pancakes filled with sweet, sticky toffee sauce and caramelised apples, prepare to be wowed!
This recipe makes the perfect dessert pancakes, served with ice cream or crème fraiche – delicious.
Prep time: 15 minutes
Cooking time: 15 minutes, plus 30 minute resting time for the batter
Serves: 6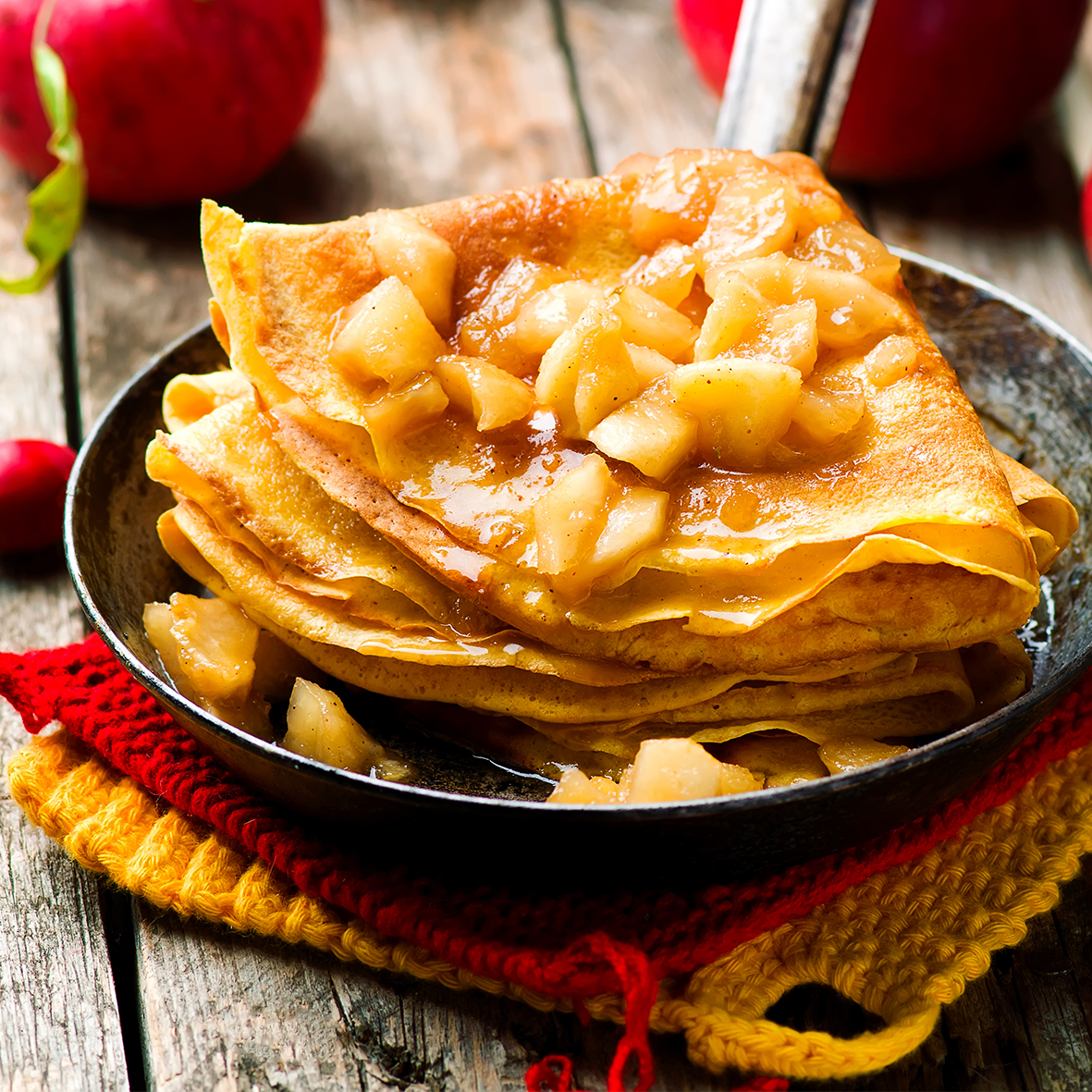 Ingredients:
For the pancakes:
110g plain flour
2 large eggs, beaten
300ml milk
1 tbsp sunflower oil
Pinch of salt
For the apples:
800g Bramley apples
50g salted butter
150g caster sugar
450ml double cream
Miles Ginger and Lemongrass Tea Kite, made up with 25ml boiling water
Additional sunflower oil to fry the pancakes
Ice cream or crème fraiche to serve
Method:
Sift the flour and salt into a large batter jug. Make a well in the centre and pour in the eggs and whisk to combine.
Keep whisking while you gradually add the milk and 1 tbsp sunflower oil. Continue whisking until you are left with a smooth, runny batter. Set aside for 30 minutes to rest.
Peel and core the apples, then dice into 1cm cubes.
Fry the apples in a knob of salted butter until they start to brown.
Meanwhile, place a saucepan over a low heat. Add the sugar to the pan with 3 tbsp Ginger and Lemongrass tea. Dissolve the sugar.
Bring the sugar to the boil (do not stir it). When the sugar turns a golden colour, whisk in the remaining salted butter.
Remove the pan from the heat and stir in the double cream.
Add the apples to the toffee sauce and mix in. Put the toffee apple filling to one side (keep it warm).
Heat a frying pan until it is very hot and then turn the hob down to medium. Pour a little batter into the pan (enough for one pancake) and tip the pan from side to side so that the batter coats the bottom of the pan in a thin layer. Cook for around a minute on this side before flipping and cooking for a minute on the otherside.
Continue this process until you have used all of the batter. Stack the pancakes, with greaseproof paper between them, on a plate and keep warm in the oven (at a very low heat) while you make the rest.
Stack the pancakes, folding in the toffee apple filling and serve with a dollop of crème fraiche or ice-cream.
We'd love to see photos of you enjoying a moment with Miles and trying out this recipe! Follow us on Facebook, Twitter and Instagram and share your pictures with the #momentswithMiles. Happy baking!
Share a moment with friends