Jam heart biscuits
Win the love of your Valentine with these heart shaped jam biscuits…
Don't just sent a card to your love this Valentine's Day, go the extra mile and bake them these delicious heart shaped jam biscuits – if you're lucky you might even get to eat some too!
Prep Time: 50 minutes
Baking Time: 10 minutes
Makes: 16 biscuits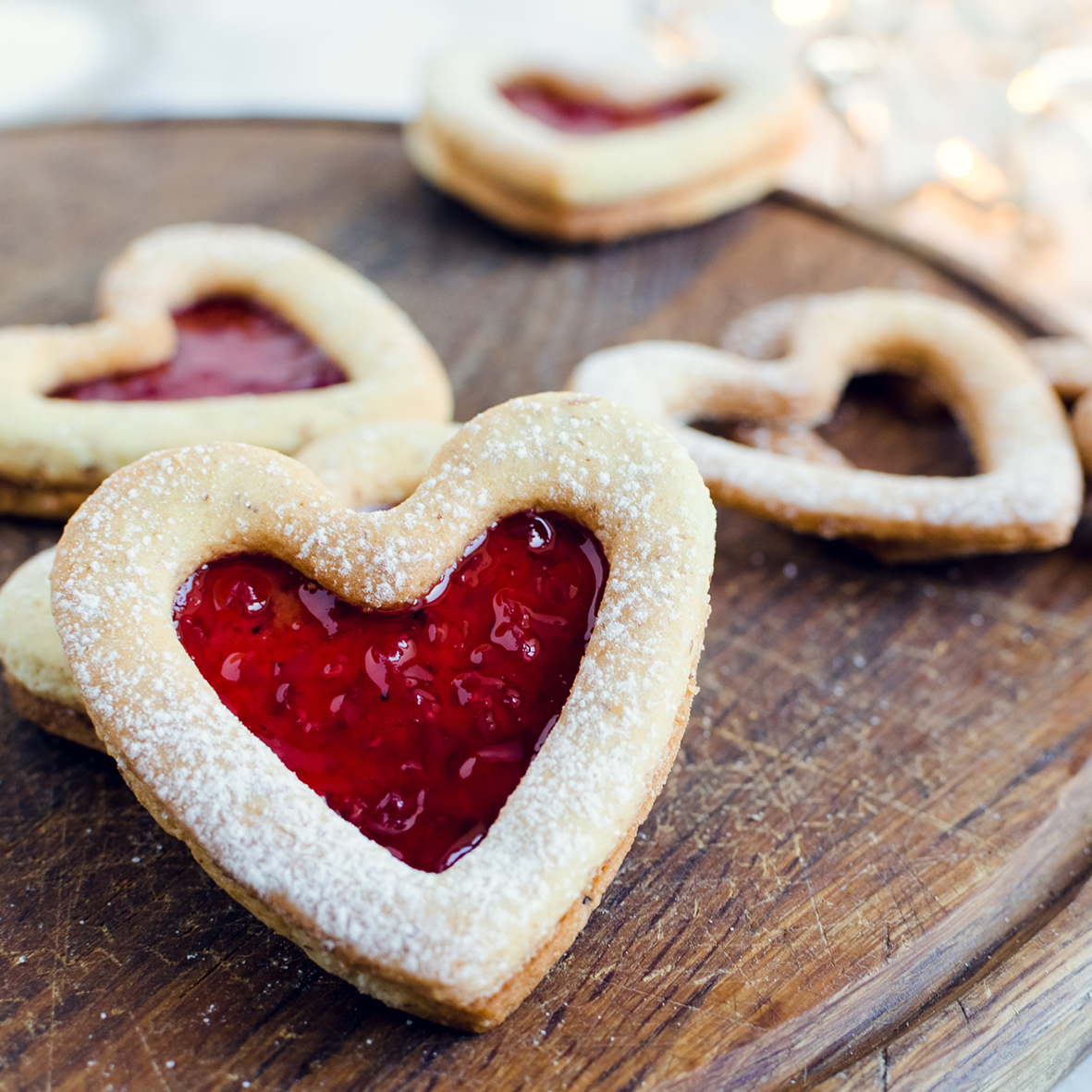 Ingredients:
250g unsalted butter, softened
140g caster sugar
1 egg yolk
300g plain flour
2 tsp vanilla extract
Zest of one lemon
450g raspberry jam
Method:
In a large mixing bowl, bring together the butter and caster sugar with a wooden spoon until it is pale and fluffy.
Add the egg yolk, vanilla extract and zest of one lemon to the mixing bowl and beat until all of the ingredients are combined.
Sift in the flour, half at a time, and stir into the mixture until you are left with a firm dough.
Heat the oven to 180˚c/gas 4 and line two baking sheets with baking paper.
Roll out the biscuit dough until it is no thicker than 5mm. Using a heart shaped biscuit cutter, cut out 32 hearts.
Using a smaller heart shaped biscuit cutter, cut out the centre of 16 biscuits. Place each of the 16 hearts with the centres removed on top of one of the whole hearts and gently push down the edges to seal them together. You will be left with a heart shape with thicker edges and an indent in the middle.
Place the hearts on the baking trays, leaving a little room between each one for them to spread slightly when they cook.
Using a teaspoon, carefully fill each of the indented centres with jam.
Bake in the oven for 8-10 minutes, until the biscuits are slightly golden and crisp.
Allow the biscuits to cool and then dust over the icing sugar. Serve with a pot of Smuggler's Gold tea and enjoy with your Valentine.
We'd love to see photos of you enjoying a moment with Miles and trying out this recipe! Follow us on Facebook, Twitter and Instagram and share your pictures with the #momentswithMiles. Happy baking! ☕
Share a moment with friends