Coffee Spiced Chicken
Store cupboard favourites make a delicious marinade for your roast chicken…
Serve up a healthy meal of succulent chicken, which has been roasted in a spicy marinade, with roasted new potatoes and salad. The addition of coffee in the marinade gives the dish a rich, earthy flavour that perfectly complements the chicken.
Prep Time: 10 minutes, plus 30 minutes for the chicken to marinade
Cooking Time: 1 hour – 1 hour 20 minutes
Serves: 6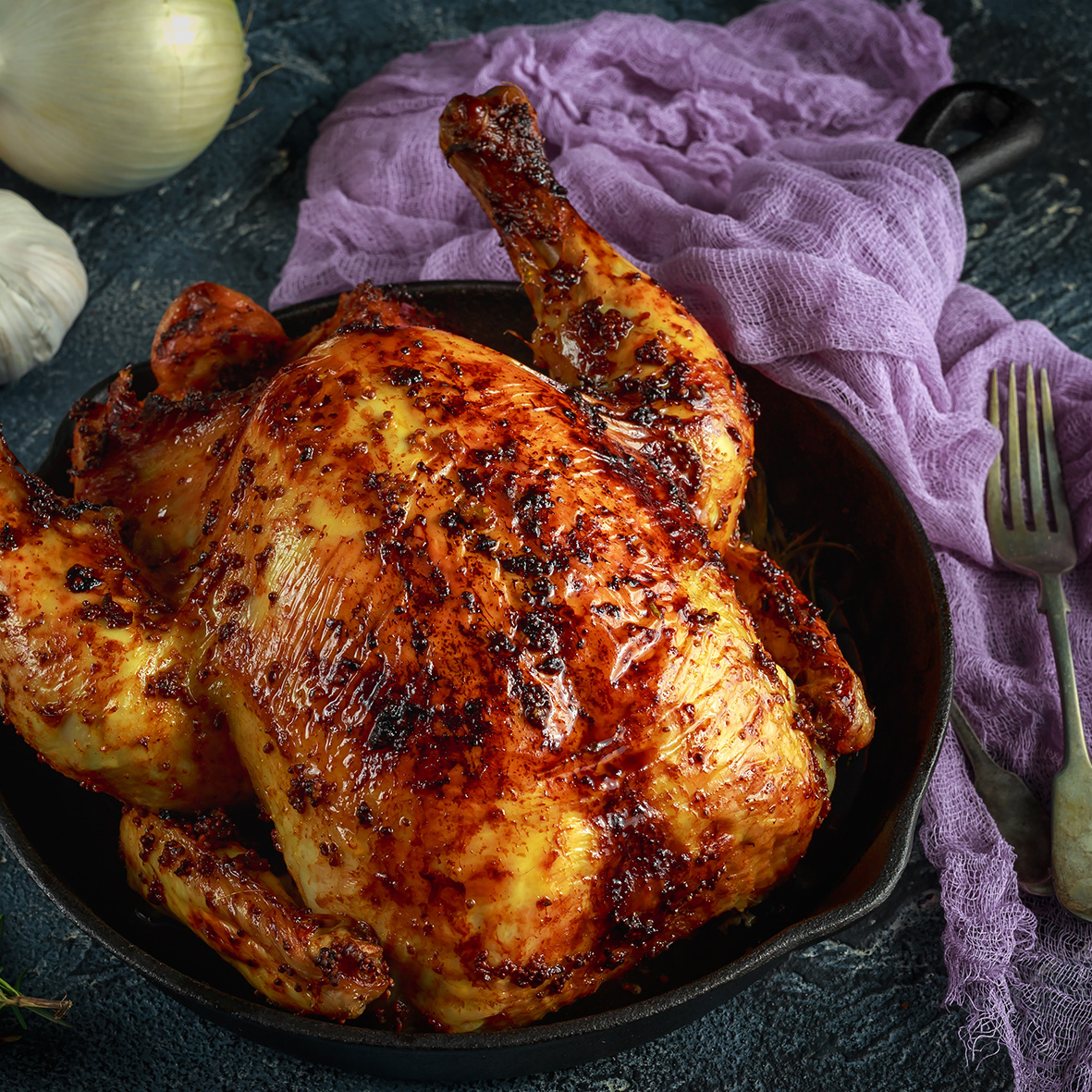 Ingredients:
1.75kg whole chicken
1 tspn olive oil
2 tbsp Miles Freeze Dried Coffee Granules
1 tbsp Demerara sugar
½ tsp ground cinnamon½ tsp ground clove
1 tsp all spice
2 tsp smoked paprika
½ tsp cayenne pepper
½ tsp garlic granules
Pinch of Black pepper
Pinch of Salt
Method:
To make the marinade mix together the oil, coffee, sugar, garlic granules, spices, salt and pepper in a bowl and stir to combine.
Using a sharp knife make two deep, diagonal cuts into each chicken breast, the thighs and the drumsticks.
Line a roasting tray with tin foil (enough to fully cover the chicken). Put the chicken, breast side up, onto the tray.
Rub the marinade all over the chicken and into the cuts you made. Leave to marinate for 30 minutes.
Pre-heat the oven to 200˚c/ gas 6. Fold the foil over the chicken, wrapping it completely, with a closed seam at the top.
Place the chicken in the middle of the oven and cook for one hour.
Remove the chicken from the over, carefully unwrap the foil (ensuring none of the juices come out) and cook for a further 15-20 minutes. Baste the chicken a couple of times in these last minutes.
Insert a skewer into the thickest part of the chicken, if the juices run clear the chicken is cooked, if they run pink continue to cook for longer until they eventually run clear.
Allow the cooked chicken to stand for 10 minutes when you remove it from the oven. Serve with roasted new potatoes and fresh salad.
We'd love to see photos of you enjoying a moment with Miles and trying out this recipe! Follow us on Facebook, Twitter and Instagram and share your pictures with the #MomentswithMiles. Happy cooking!
Share a moment with friends