Gingerbread stars
Biscuits or decorations? These gingerbread stars double up as both!
These pretty gingerbread biscuits will make a pretty, festive centrepiece for a Christmas party. Hang them on decorative twigs so that they look like Christmas ornaments and enjoy them with Christmas coffee after your meal.
Prep time: 20 minutes (plus 30 minutes cooling)
Baking time: 10 – 15 minutes
Makes: 16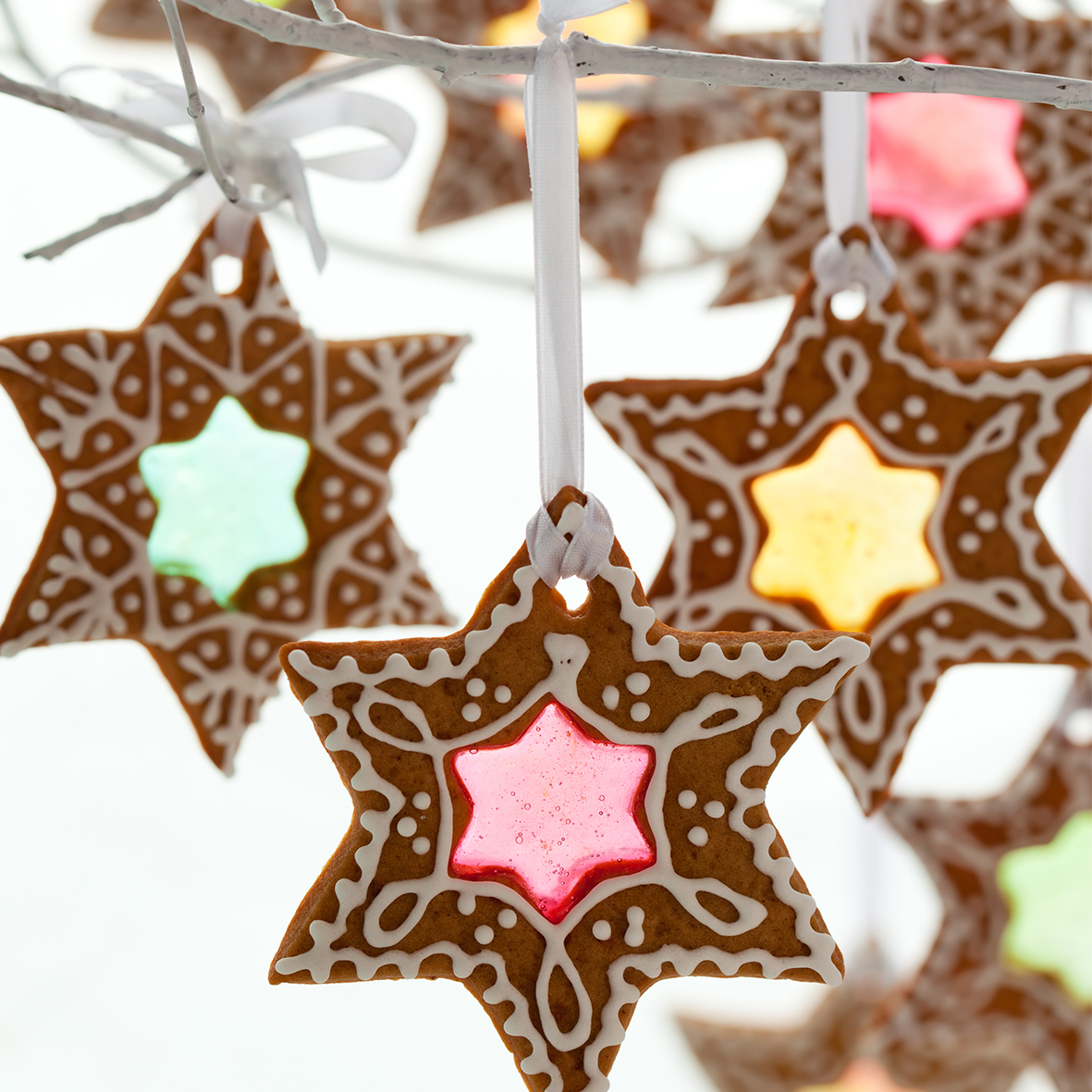 Ingredients:
For the biscuits:
300g plain flour
150g unsalted butter, softened
¾ tsp bicarbonate of soda
2 tsp ground ginger
1 tsp ground cinnamon
½ tsp mixed spice
130g soft, light brown sugar
100g golden syrup
16 clear, coloured boiled sweets
To decorate:
Writing icing
3 metres of ribbon (2mm wide) or twine
Decorative twigs in a vase
Method:
In a saucepan, melt the butter and sugar and golden syrup over a low heat. Stir to dissolve the sugar. Remove from the heat and leave to cool.
Meanwhile, sieve the flour into a large bowl and add the bicarbonate of soda, ginger, cinnamon and mixed spice.
Once it has cooled add the butter mixture into the flour and stir together until you have a soft dough.
Remove the dough from the bowl, wrap it in cling film and place in the fridge to chill for 30 minutes.
Line two baking sheets with baking paper and preheat the oven to 200˚c /gas mark 6.
Remove the dough from the fridge and roll it out, with a rolling pin, until it is around 5mm thick.
Using a large star-shaped, cookie-cutter, stamp out the gingerbread biscuits. Transfer the stars to the lined trays and then with a smaller star-shaped, cookie-cutter stamp out the centre of each biscuit.
Make a 5mm hole in the top of each of the biscuits.
Crush the boiled sweets, but keep them in their separate colours. Then fill the holes of the biscuits with the broken sweets.
Bake the biscuits in the oven for 12 – 15 minutes, or until the biscuits are slightly golden and the boiled sweets have melted.
Leave the biscuits to cool on the baking trays (the melted sweets need to re-harden), then move to a wire rack to completely cool.
Create decorative patterns with the writing icing and thread ribbon or twine through the holes that you made at the top of each biscuit.
String a couple onto decorative twigs as a centrepiece for a Christmas party.
We'd love to see photos of you enjoying a moment with Miles and trying out this recipe! Follow us on Facebook, Twitter and Instagram and share your pictures with the #momentswithMiles. Happy baking!
Share a moment with friends