Sticky Toffee Pudding
Moist sponge cake topped with rich toffee sauce, this British classic is the ultimate comfort food
This rich, sticky pudding is filled with warmth, making it an ideal pudding for the colder months. A dessert that is perfect for both a casual dinner with friends or a family Sunday lunch.
Prep Time: 30 minutes
Baking Time: 45 minutes – 1 hour
Serves: 8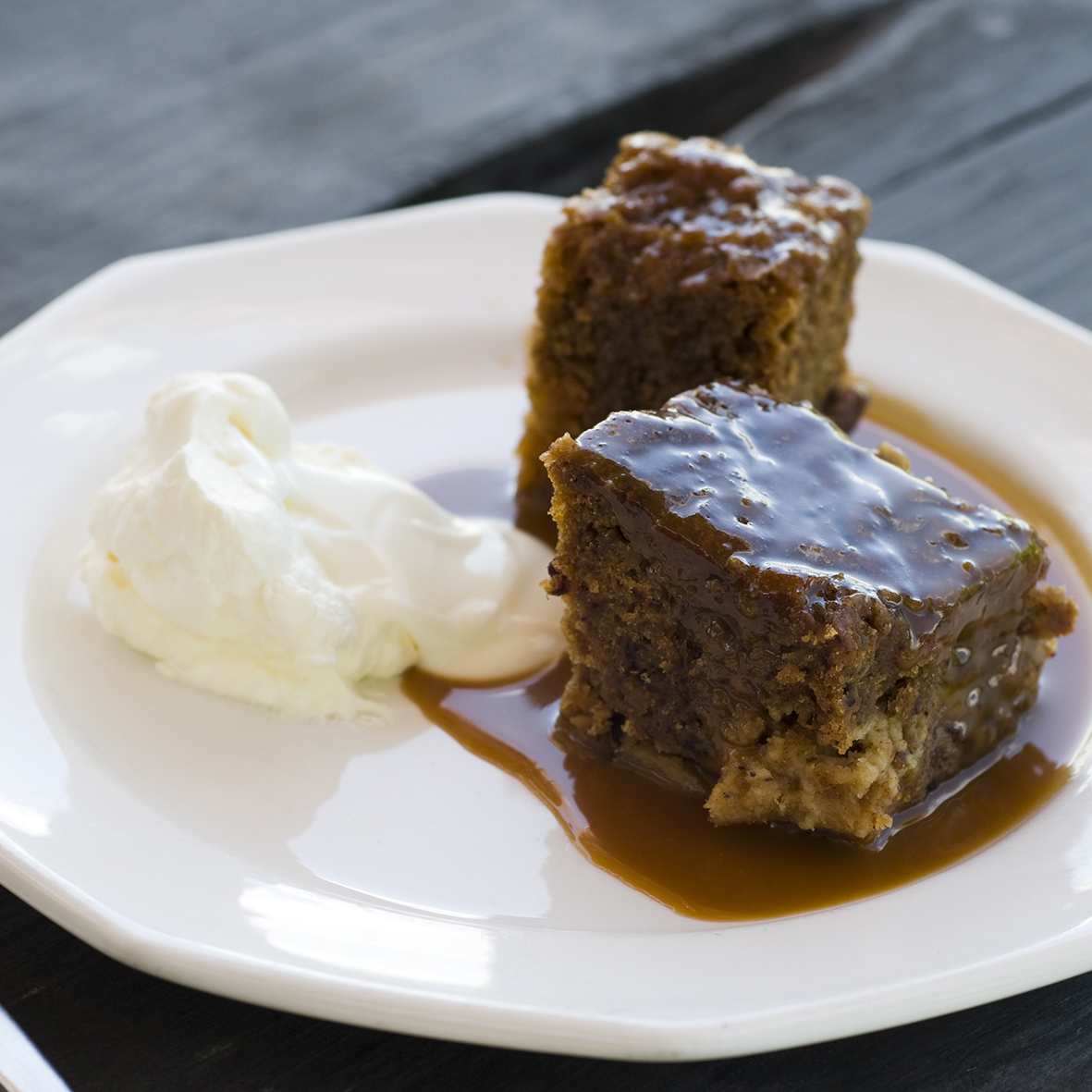 Ingredients:
For the cake:
225g pitted dates, roughly chopped
300ml Miles Earl Grey Tea (brew 4 tsp of loose-leaf tea in 300ml boiling water for 5 minutes)
110g unsalted butter, softened
110g muscovado sugar
3 eggs, beaten
225g self-raising flour
2 tbsp black treacle
2 tsp baking powder
1 tsp bicarbonate of soda
1 tsp vanilla extract
For the hot toffee sauce:
225g muscovado sugar
110g butter
225ml double cream
1 tbsp black treacle
1 tsp vanilla extract
Method
Preheat the oven to 180°C/gas mark 4. Line the bottom and butter a large baking dish.
Put the chopped dates and bicarbonate of soda in a bowl and cover with the boiling tea, stir and leave to soak for 10-15 minutes.
Meanwhile, cream together the butter, black treacle, vanilla extract and sugar in a large bowl until light and fluffy. Add the eggs, a little at a time, beating between each addition to ensure the eggs are fully incorporated.
Sieve in the flour and baking powder and gently fold in until combined and you have a thick cake batter.
Return to the dates, stirring them and softly squishing them a little. Drain the dates and mix them into the cake batter.
Pour the mixture into the baking dish and cook for 30-40 minutes. To check if the cakes are ready to come out of the oven, insert a clean knife or skewer into the middle of the cakes. If it comes out clean the cake is cooked.
While the cake is cooking make the toffee sauce. Put the sugar, black treacle and butter into a saucepan and melt gently on a low heat, stirring the sugar into the melted butter.
Gradually stir in the cream and vanilla extract, turn up the heat and when the sauce starts bubbling (and is completely smooth) remove from the heat. Put a lid on the saucepan to keep the sauce hot.
Remove the cake from the oven and while it is still hot, prick with a cocktail stick and pour a little of the sauce over the cake. Leave to stand in the baking dish for 10-15 minutes to cool slightly.
Serve the pudding warm with the hot toffee sauce poured over the top and a dollop of whipped cream. Put the remaining sauce in a jug so that you can add more if you wish.
We'd love to see photos of you enjoying a moment with Miles and trying out this recipe! Follow us on Facebook, Twitter and Instagram and share your pictures with the #momentswithMiles. Happy baking! ☕
Share a moment with friends