Lemon and Tea Celebration Cake
With zesty buttercream and a light, fluffy sponge, this cake will be the star of any gathering
Fluffy sponge infused with the finest Assam tea leaves and zesty lemon, smothered in creamy buttercream and topped with seasonal blackberries and raspberries, this cake is cause for celebration…
Prep Time: 1 hour 30 minutes
Baking Time: 25-30 minutes
Serves: 16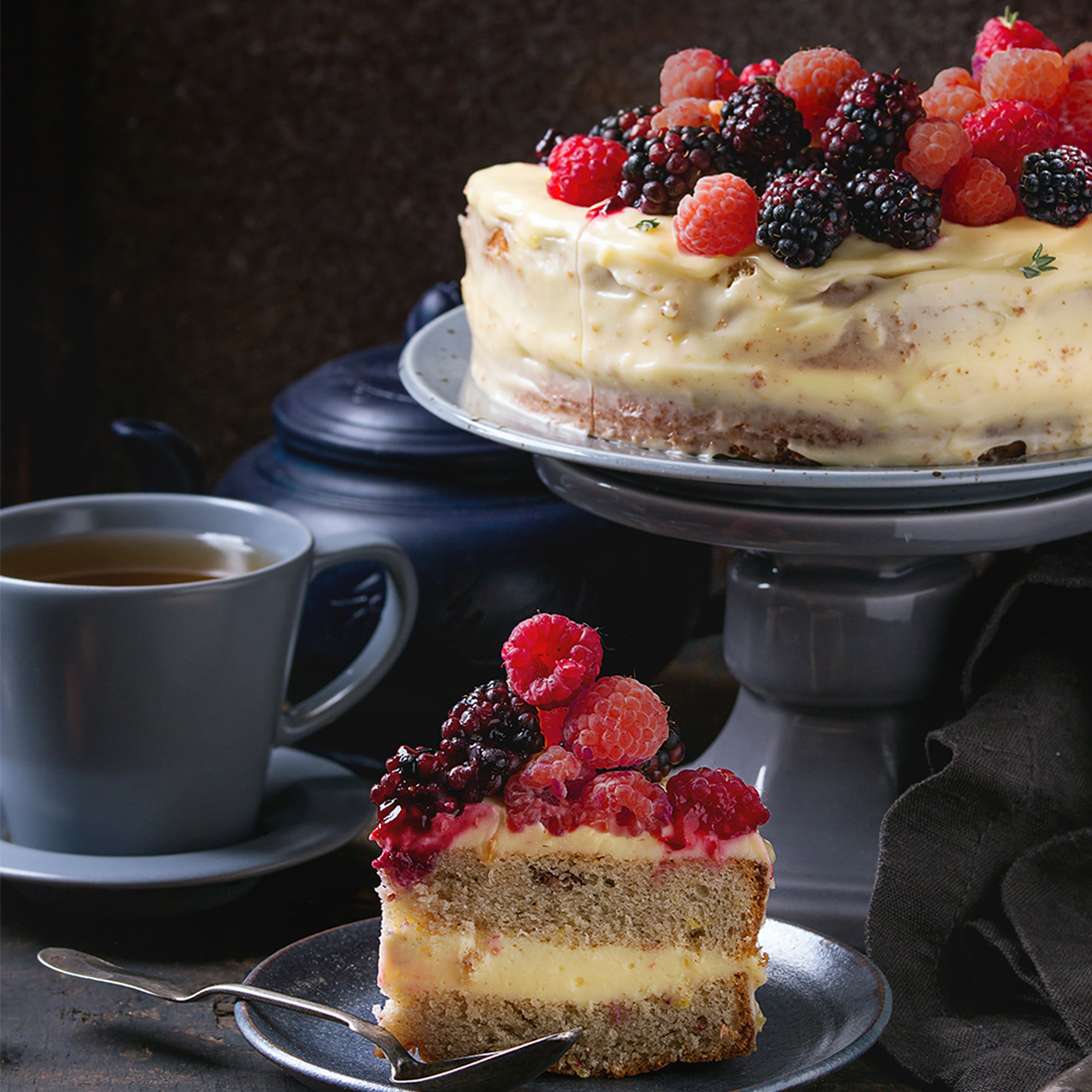 Ingredients:
For the sponge:
1 1/2 tsp Miles Assam Lose Leaf tea
1 tsp Miles Assam Large Leaf Loose Leaf tea
50ml vegetable oil
220g salted butter (plus extra for greasing)
320g caster sugar
3 large eggs
270g self-raising flour
Zest and juice of 2 lemons
For the buttercream and decoration:
235g unsalted butter
470g icing sugar
Zest of 1 lemon
2 tbsp lemon juice
250g mixture of blackberries and raspberries
Method:
In a small saucepan, add the Assam Loose Leaf tea to the salted butter and vegetable oil. Heat together until the butter has melted, then take off the heat, set aside and allow to infuse for 20 minutes.
Preheat the oven to 180˚c/gas 4. Grease and line two 8 inch round cake tins.
Once the butter has infused put it into a large mixing bowl with 250g of caster sugar, the eggs, flour and lemon zest. Whisk together with an electric mix until the batter is smooth.
Divide the batter between the two tins and bake for 25-30 minutes, or to check if the cake is ready to come out of the oven, insert a clean knife into the middle of the cake. If it comes out clean the cake is cooked.
While the sponges are cooking, gently heat the juice of 2 lemons with 1 tsp of Assam Large Leaf Loose Leaf tea and remaining caster sugar in a saucepan, stirring until the sugar has dissolved. Bring the lemon juice to the boil, remove from the heat and allow the tea leaves to infuse for 20 minutes.
Once cooled and infused, strain the lemon syrup and remove the tea leaves.
When the cakes have finished cooking leave them in their tins. Insert a skewer or cocktail stick into the sponges, making little holes all over them. Pour the lemon syrup evenly over the cakes and leave them to finish cooling (still in their tins) on a wire rack.
While the cakes are cooling make the buttercream. Beat the unsalted butter in a large bowl until it is soft. Gradually add the icing sugar a little at a time; ensuring it is fully mixed in after each addition.
Mix in the juice and zest of one lemon and beat until all of the ingredients are combined and the mixture is light and fluffy.
Spread some of the buttercream over the top of one of the sponges and sandwich the second sponge on the top.
Cover the top of the cake and the sides in the buttercream, smoothing out with a spatula.
Finish the cake by heaping the raspberries and blackberries on the top.
Enjoy with a freshly made cup of Miles West Country Original or, if we get the Indian Summer we've been promised, how about washing it down with a cooling glass of Miles Berry Berry Mocktail?
We'd love to see photos of you enjoying a moment with Miles and trying out this recipe! Follow us on Facebook, Twitter and Instagram and share your pictures with the #momentswithMiles. Happy baking! ☕
Share a moment with friends