Lavender Shortbread Biscuit Recipe
Floral, sweet, crumbly goodness. These buttery shortbread rounds make a lovely homemade gift
If you have been to stay with friends over the summer holidays, have had a neighbour lend you a hand in your garden or have had a family member look after the children for you while they've been off school, say thank you with these delicious lavender shortbread rounds. Wrap them up and take them over when you next pop round for a cup of tea!
Prep time: 1 hour, 15 minutes (including chilling time)
Baking time: 20-25 minutes
Serves: Makes 16-20 biscuits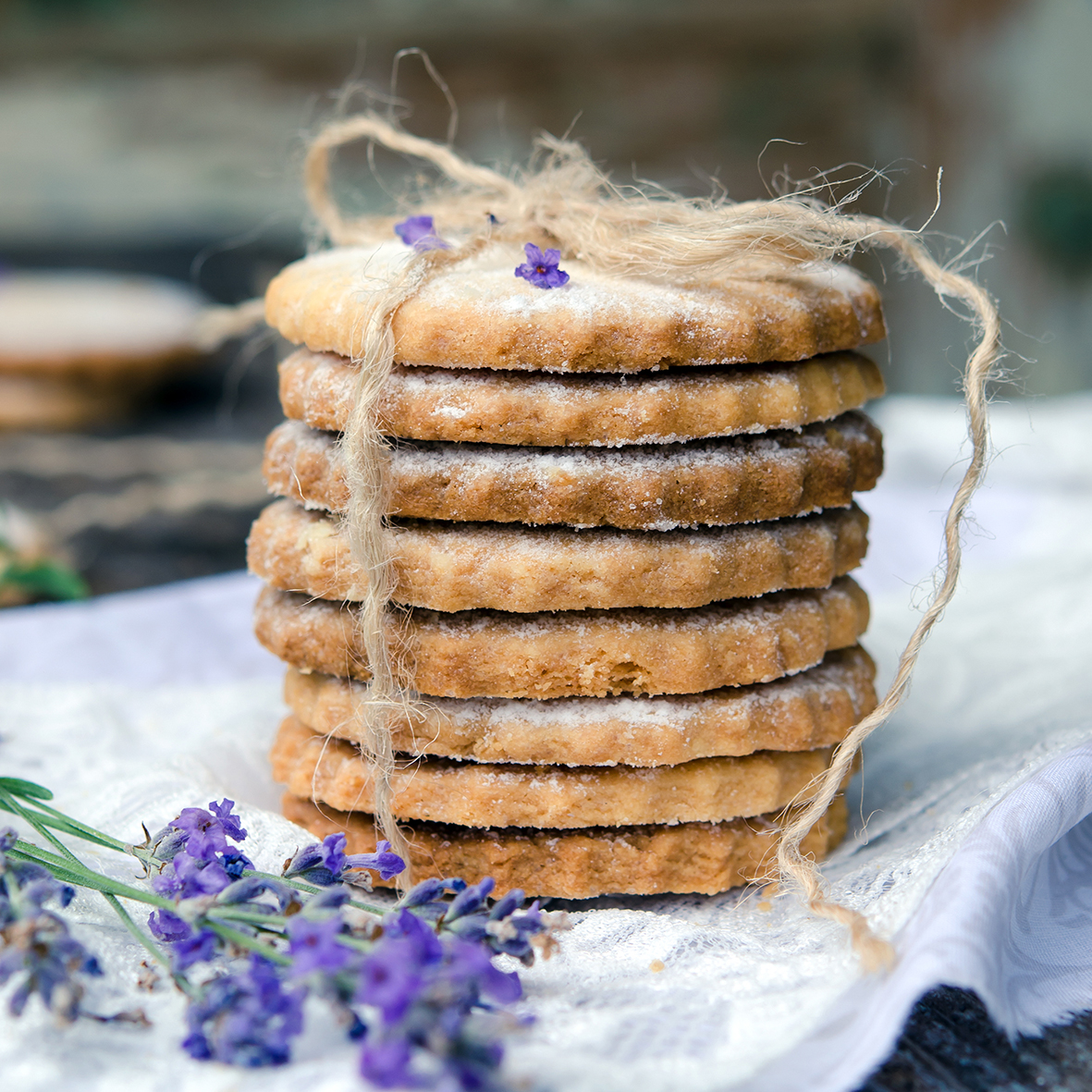 Ingredients:
200g unsalted butter
100g caster sugar
250g plain flour
40g ground rice
1 ½ tsp dried ground culinary lavender
2 Miles Lavender, Limeflower and Rose Tea Kites
½ tsp salt
Method:
Whisk the butter with the ground lavender in a large mixing bowl until it is soft and fluffy.
Add the sugar to the butter, a little at a time, and mix well.
Sift the flour into a different bowl, adding the ground rice and the salt.
Open the two tea bags and empty the tealeaves into a mortar and grind using a pestle until the leaves are really fine. Add the tealeaves to the flour mixture.
Stir half the flour mixture into the butter until it is smooth and starting to form a dough.
Knead the remaining flour mixture into the dough with your fingers.
Shape the dough into a ball, cover with Clingfilm and pop into the fridge for 15 minutes.
Preheat the over to 190˚/gas 5 and line a baking tray with baking paper.
Take the dough out of the fridge and roll out on a floured surface until the dough is about half a centimetre thick.
Using a fluted biscuit cutter, cut out biscuit rounds from the dough.
Place the rounds onto a baking tray before placing the tray in the fridge for 30 minutes.
Take the tray from the fridge and put directly into the preheated over for around 20 minutes or until a pale golden colour. Allow the biscuits to cool on the tray slightly before transferring to a wire rack to cool completely.
We'd love to see photos of you enjoying a moment with Miles and trying out this recipe! Follow us on Facebook, Twitter and Instagram and share your pictures with the #momentswithMiles. Happy baking! ☕
Share a moment with friends