Chocolate Hot Cross Bun Recipe
Take your hot cross buns to the next level with another Easter favourite, chocolate!
Here at Miles we think no amount of chocolate is too much, so we've jazzed up our hot cross buns by adding, you guessed it, chocolate! Delicious warm or cold, why not bake these buns as an Easter gift?
Prep Time: 20 minutes (plus 2 hour 15 minutes proving)
Baking Time: 20 minutes
Serves: Makes: 12 buns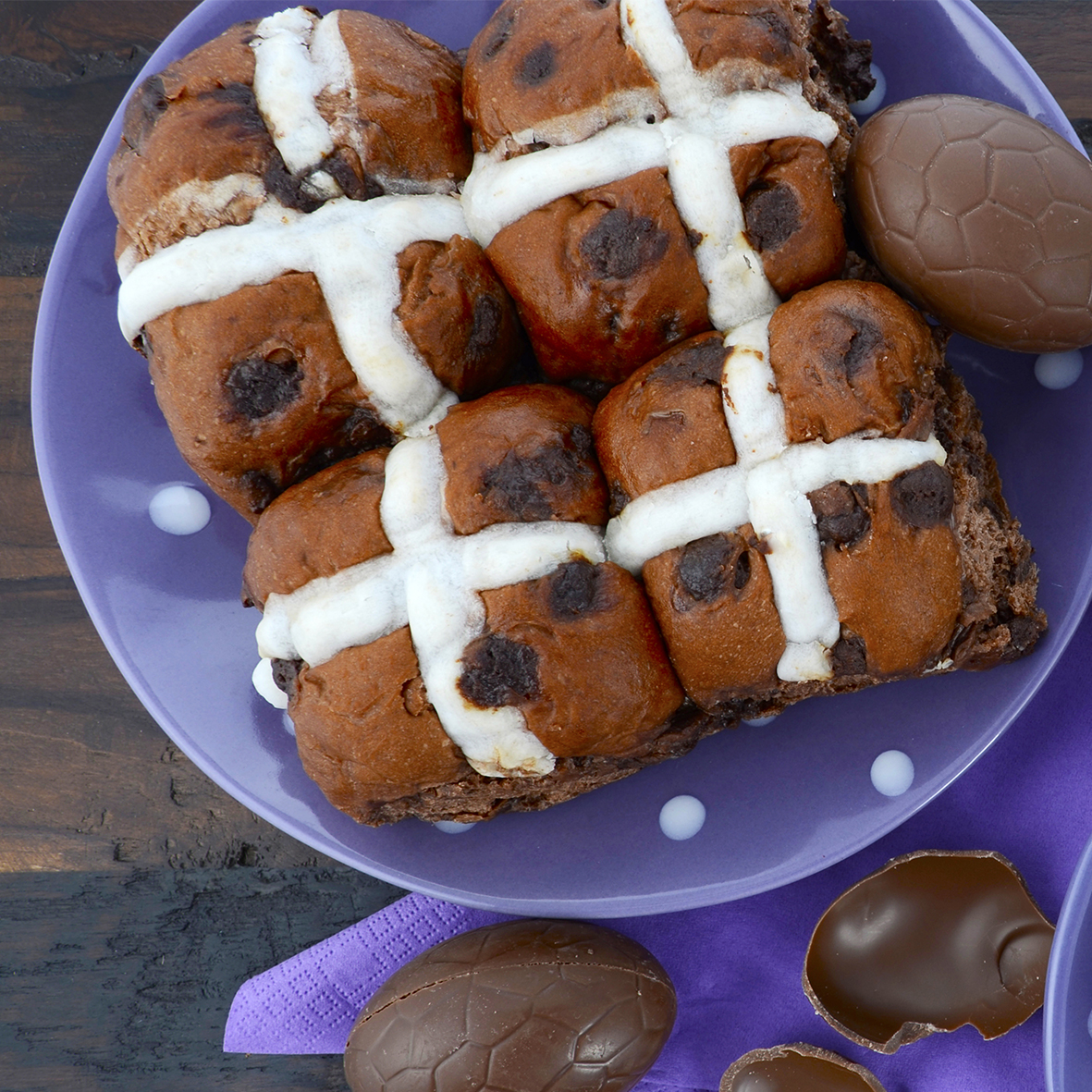 Ingredients:
For the buns:
200ml milk
50g salted butter
400g strong bread flour
50g Miles Heavenly Hot Chocolate
1 x 7g sachet dried yeast
50g golden caster sugar
1tsp ground cinnamon
½ tsp mixed spice
1tsp vanilla extract
1 large egg, beaten
100g raisins
100g milk chocolate chips
For the crosses:
4 tbsp milk
4 tbsp plain flour
Method:
Add the butter, sugar, cinnamon and mixed spice to a medium pan. Warm gently over a low heat, stirring occasionally, until melted.
Remove from the heat before adding the milk and beaten egg. Whisk well.
In a large bowl, sift in the flour and Miles Heavenly Hot Chocolate powder. Add the yeast. Make a well in the middle, pour in the milk mixture, and combine well to form a rough dough.
Knead the dough on a flour-dusted surface until smooth and springy (this should only take around 5-10 minutes).
Place the dough in a flour-dusted bowl, cover with a clean damp tea towel and prove in a warm place for 1 hour 30 minutes. The dough should have doubled in size.
Transfer the dough to a clean surface. Flatten slightly, knocking out the air, before sprinkling the chocolate chips and raisins over the dough and kneading them in.
Pre heat the oven to 180˚c /gas mark 4 and line a large baking sheet with baking parchment.
Divide the dough into 12 equal pieces and shape each piece into a smooth ball. Place the dough balls onto the baking tray, ensuring you leave enough space between each bun for proving.
Cover with a damp cloth and leave to prove in a warm place for around 45 minutes.
While the buns are proving, mix 2 tbsp of milk to the flour, a little at a time, until you have a runny paste.
Spoon the mixture into a piping bag and, once the buns have doubled in size, pipe a cross onto each one.
Glaze the buns with the remaining milk and bake for 20 minutes or until golden.
Enjoy fresh from the over with a little butter and a large mug of Miles West Country Original Tea.
We'd love to see photos of you enjoying a moment with Miles and trying out this recipe! Follow us on Facebook, Twitter and Instagram and share your pictures with the #momentswithMiles. Happy baking!
Share a moment with friends